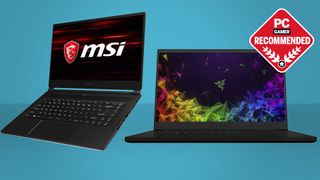 The best gaming laptop, much like a pre-built gaming PC, puts you into the express line for modern high-end gaming hardware. Building your own machine is right out right now, which makes a full system purchase your best chance of bagging an RTX 30-series GPU or an AMD Ryzen 5000-series CPU. 
And gaming laptops have a lot to offer as your primary gaming PC these days. They're not necessarily at parity with desktop hardware in terms of raw performance, but today's notebooks are far slimmer, quieter and more powerful than anything that's gone before. You want high refresh rate screens? No problem. You want high resolution too? You got it. The latest GPUs with ray tracing acceleration? Of course!
The only problem is, no-one makes it easy to pick the right laptop anymore. Which I guess is where we come to the rescue. There are now many CPU and GPU combinations, and so many different versions of each to get your head around. That means, for example, one Nvidia RTX 3080 gaming laptop can deliver an entirely different gaming experience compared to another. It's only set to get more complicated as AMD has announced new RDNA 2 mobile GPUs coming this summer.
But make no mistake, this is a great time to buy one of the best gaming laptops. They have never been more powerful, nor more portable, and they also represent one of the best ways to get hold of the latest AMD, Intel, and Nvidia hardware. If you're not looking to max out your credit cards, we frequently scout out cheap gaming laptop deals too. And if you don't go with a high powered gaming laptop, we've got a list of the best laptop games you can play on low-spec machines.
Our favorite config:
The latest spin of the Razer Blade 15 once again improves on one of the best gaming laptops ever made. It has the same gorgeous CNC-milled aluminum chassis as its predecessor, only this time it can house one of Nvidia's latest RTX 30-series GPUs and an Intel 10th Gen CPU.
We've been playing with the Razer Blade 15 Advanced with a 10th Gen Intel chip and RTX 3080 (95W) GPU inside it. And we fell in love all over again. These latest models up the graphics processing even further, with support for up to the 8GB RTX 3080, which is incredible in this small a chassis. You will get some throttling because of that slimline design, but you're still getting outstanding performance from this beautiful machine.
One of the best things about the Blade 15 is the number of configurations Razer offers for it. From the GTX 1660 Ti Base Edition, all the way up to the RTX 3080 Advanced with OLED 4K panel, there's something for almost everyone. It's one of the most beautiful gaming laptops around, and still powerful.
Whatever config you pick, we think the Razer Blade 15 is the overall best gaming laptop on the market right now, though you will be paying a premium for the now-classic design.
Read the full Razer Blade 15 Advanced Edition (2020) review.
Our favorite config:
Let's face it, trying to find a quality gaming laptop on a budget can be a chore. You have to make compromises in areas like performance, design, and even battery life. Thankfully, the Dell G3 15 offers decent 1080p gaming with configurations under $1,000, and the battery is actually good.
The most significant improvement from its previous model is a slimmer, sleeker design. Along with thinner bezels around a 144 Hz display, the sleeker design gives it a more high-end vibe. It's a welcome toned-down look, in case you're hoping for a gaming laptop that doesn't shout 'gamer' as soon as you pull it out of your bag. The display itself seems the only downside, not having as rich a color range as the other gaming laptops on this list.
Our favorite config:
Not everyone needs the thinnest or the most powerful gaming laptop. Sometimes just lightweight and speedy are fine. Striking a healthy balance between portability, performance, and price is the Asus ROG Zephyrus G14. The original machine was an impressive RTX 2060 Max-Q notebook whose incredible AMD CPU performance managed to impress our dedicated team of hardware testers at the top-secret PC Gamer lab. 
Source: pcgamer.com
Tags: #Acer #ASUS #gaming laptop #Gigabyte #Hardware #laptops #MSI #notebooks #Razer Blade 15