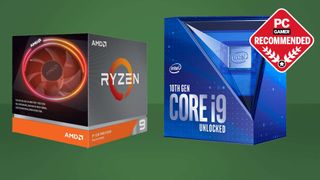 The best CPU for gaming is the beating silicon heart of your gaming PC. It will give that expensive new graphics card you've got your eye on a chance to work to its full performance potential. It should be a reasonable price while ensuring you've got plenty of cores for content creation, streaming, productivity, and whatever else you use your PC for.
The new Intel Rocket Lake chips are out now, and while the best CPU of the 11th Gen lineup, the Core i9 11900K, is a bit of a mess, the Core i5 11600K offers excellent value for money today. AMD is still the king of all it surveys, however, with its excellent Zen 3 chips, notably the stunning Ryzen 9 5900X, being our absolute favourite processor today.
There is a slight problem in the CPU market right now: stock levels. Just as Nvidia and AMD's graphics cards sold out in seconds, so did AMD's Ryzen 5000 series processors. They're amazing chips, but actually getting your hands on one can be a struggle. The Ryzen 5 5600X and Ryzen 7 5800X are in better shape, stock-wise, but the 12-core 5900X is still frustratingly tough to find. Don't give up hope, however, stock has been known to return, if only for a moment.
AMD is also looking to expand its manufacturing in some regard with new B2 stepping chips, although we've no word of when this may have an affect on the market, if any.
Once you've worked out which CPU you want to build a machine around, the next question is what sort of motherboard you should pick. The new Ryzen 5000 chips still use the AM4 socket and are compatible with X570, B550, and A520 motherboards (oh, and B450 and X470 motherboards). Intel's Comet Lake chips use the LGA 1200 socket, and Rocket Lake has introduced new 500-series boards. Unless you're desperate for the awkward PCIe 4.0 solution the new Intel chips offer we'd probably still go with either a Z490 or cheaper B460 motherboard at this point for Intel. Thankfully, our picks for the best gaming motherboard are compatible with the CPUs on this list. 
AMD's Zen architecture has improved with each generation, but the fact that AMD managed to knock out a 19 percent IPC improvement with Zen 3 is nothing short of staggering. The key takeaway for us as gamers is that this improvement means that AMD can now stand toe to toe with Intel when it comes to gaming. Honestly, there's so little between these two now that anyone claiming otherwise is delusional. 
Whatever resolution your gaming at, this processor can handle it and keep your graphics card of choice fed with lots of juicy frames. The fact that this is a 12-core, 24-thread monster means that it can cope with anything else you throw at it as well. So if you have dreams of 3D rendering, video editing, or any other serious tasks, you'll know that you have the raw grunt to handle it. The fact that it won't hold you back when gaming makes it even sweeter. 
The only real downside is the pricing and the dropping of the Wraith cooler—don't forget to factor in when you buy. You do get what you pay for, though, and this is a phenomenal chip for gaming and anything else you might want to do. 
If you're in the market for real power, you could step up to the Ryzen 9 5950X, which gives you 16 cores and 32 threads. However, it costs $250 more, and for gaming purposes and even most content creation chores, the 5900X is more than sufficient.
Read the full AMD Ryzen 9 5900X review.
The Core i5 11600K is my favorite chip of the new Rocket Lake generation, which marks a nostalgic return to the old days of Intel CPU launches. The top processor was always a decent halo product, but the i5 was where the price/performance metrics really sold a new generation. Okay, with the 11900K being a frustrating chip, maybe it's not a total return to the old days, but the 11600K is still an outstanding six-core, 12-thread gaming processor.
It's also incredibly affordable too, with a price tag well underneath the Ryzen 5 5600X and performance figures that have it trading blows with AMD's otherwise excellent Zen 3 chip. The Cypress Cove 14nm backport may have made it rather power-hungry, but that doesn't stop it from being a great gaming CPU and one that delivers a lot of processor silicon for not a lot of cash.
And PCIe 4.0 support on Intel 500-series motherboards. Though that is of dubious benefit at the moment as our testing has not so far gone well with supported PCIe 4.0 SSDs. That will hopefully change, but even so, this is still one of the best cheap gaming CPUs around.
When it comes to gaming, everything that's great about the 5900X rings true for this more affordable Zen 3 chip as well. There's nothing between any of the Ryzen 5000 chips in games, which means you'll hit the same frame rates with this chip as you will our number one pick. Which is incredible when you think about it—top-tier performance from the most affordable Zen 3 CPU? We'll say yes to that every single day.
This does have half the core count of that top chip, rolling in as it does with 6 cores and 12 threads. This is only an issue with those more serious workloads, though, and this is more than sufficient for more reasonable stuff. You could argue that gaming could go beyond the 12-threads we have here, but there's no evidence that is the case so far, and that's even though the next-gen consoles are rocking 8-cores and 16-threads. 
Source: pcgamer.com
Tags: #AMD #Coffee Lake #cpus #Hardware #intel #processors #Ryzen