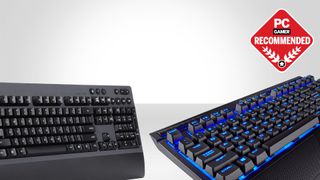 The best wireless gaming keyboard isn't necessarily the way that having the best wireless gaming headset or best wireless mouse might be. Still, if you're going for the full minimal desktop aesthetic, you'll want the full cable-free trifecta. It's not a matter of performance or even utility for the most part, but removing cables can offer flexibility for lounge gaming or simply help keep your desk clear.
Problems that come along with wireless PC gear are dwindling as the tech evolves, so there's really nothing to lose from cutting the cord nowadays. The best wireless gaming keyboard will still offer a speedy response for gaming. And since wireless keyboards have come so far, we're no longer living in the days of one-hour battery life, laggy action, and poor reliability. Now there is practically no discernible difference between a wired gaming keyboard and the best wireless keyboards. So why put up with all those cables?
There is a slightly higher price tag than some of the best mechanical keyboards, but you get heaps of freedom in return. And you won't even have to forgo the feel of your favorite mechanical switches. The best wireless gaming keyboards mostly come with the same selection of switches, though you're unlikely to find the more power-hungry optical switches in cable-free trim.
Connectivity type is an important consideration, whether via Bluetooth, a USB dongle, or both. USB dongles have slightly lower latency and are generally quicker to set up, but you'll be restricted to devices with a spare USB port. Bluetooth connections can be problematic if you have many Bluetooth devices around but are generally fine for most. With that in mind, on to our recommendations.
Wireless keyboards have often translated to the antithesis of what a gaming keyboard should be. Still, the most recent wireless technology from Logitech, built into the G915, aims to break that notion. The low-profile design features all the trappings of the best mechanical gaming keyboards available: various mechanical switches, dedicated macro keys, media controls, and full per-key RGB lighting.
The G915 is slim but remarkably dense, weighing a bit more than you'd think from the looks. The aluminum-on-plastic frame is incredibly sturdy and looks like a piece of modern art (in a good way). However, the real test is in battery life; thankfully, the G915 passes with flying colors, boasting a 30+ hour lifespan with full RGB brightness on a single charge. Turning off the RGB lighting extends that life dramatically, allowing it to function for up to 100 hours without recharging, but who's going to do that, eh?  
The sole drawback to the G915 is its astronomical price tag. At an MSRP of $250, it's drastically more expensive than our favorite wired mechanical keyboard, the Corsair K95 Platinum. The G915 does, however, have an identical wired cousin, the G815, which is 'only' $200.
The Logitech G915 feels like a logical evolution of what a wireless mechanical keyboard should be—featuring excellent connectivity, impressive battery life, and an uncompromising array of features… to those who can afford it.
The technology behind wireless peripherals has come a long way, and Logitech's Lightspeed wireless connectivity is a prime example. The G613 never once dropped a connection despite the plethora of wireless devices on our desks. It matches wired peripherals in terms of stability and responsiveness. It's efficient, too; a pair of AA batteries can push up to 18 months of continuous use.
Though it's designed for practicality first, it's anything but bland. A second glance reveals a row of dedicated macros, media controls, and a volume rocker. The grippy wrist rest is spacious, too, although it's worth noting that it isn't removable. Understandably, backlights were cut to conserve battery.
This proprietary Romer-G switch features a travel distance of just 3mm and a subtle tactile bump. Its mild, quiet nature makes it suitable for both gaming and typing.
Read the full Logitech G613 keyboard review.
Completing a clean sweep for Logitech in the top three wireless gaming keyboards is the recently released G915 TKL. Like its larger sibling, it sports the same excellent Lightspeed wireless connection and the same high-quality build and design. That means you get separate media controls and an aluminum-on-plastic chassis which makes it seriously robust.
You also get the fancy new Logitech switches, more closely aping the Cherry MX design than the original Romer-G switches. The low-profile Logitech GL, a variant of the Kailh Choc switch, is one of the best short-stack mech switches and is as responsive as it is diddy.
But you do have to make some sacrifices for the compact nature of the tenkeyless design, and that means no macro keys. Well, no physical ones anyway. The macros are now a secondary function of the F keys, and you can jump into the Logitech G software to prioritize them.
Source: pcgamer.com
Tags: #buying guide #Gaming keyboard #Hardware #wireless gaming keyboard