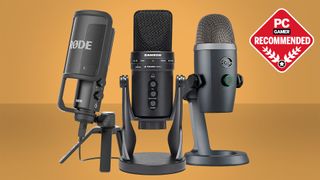 The best microphone for streaming and gaming will be different for each of us, but the quality is something we should all strive for. Let's face it, the most built-in microphone in your favorite gaming headset often sounds like muffled garbage. There's nothing worse than playing a tense match of Warzone, and your teammates can barely make out what you're saying on comms because it sounds like you're underwater. 
Maybe streaming isn't your thing; there are other reasons why investing in a good microphone is a smart call. Maybe you play competitive team games online like Apex Legends or Valorant. Another reason is maybe your laptop mic sounds terrible during a work call. 
Regardless of what you actually need from a microphone, all the ones on the list below all have one thing in common. They sound great!
USB microphones are the go-to when it comes to streaming and podcasting. So, expect to see loads of mics to choose from. XLR mics still offer the best flexibility; however, they tend to come with a not-so-flexible price tag and are more difficult to set up than USB mics (most likely requiring some external interface). 
Consider where you're going to be using your microphone and for what purpose, way before you purchase.  And once you're all set with a solid microphone, you might want to check out our guide to the best webcams, should you be looking to round out your streaming set-up. 
There's also been a rise in budget microphones under $100; the sound quality can rival some of the more expensive mics on the market. Worth a look if these best mics seem a bit too pricey for your budget and don't mind losing out on some features. 
If you're a musician or want your voice to sound the way it should be heard, the MV7 is an easy recommendation if you don't mind reaching deep into your pocketbook. 
Shure's first hybrid XLR/USB microphone manages to provide pro-grade sound with minimal set-up and expertise. While it is more expensive than your average premium mic, its versatility completely justifies the cost.
The Shure MV7 is a great-sounding XLR/USB hybrid microphone that'll give veteran podcasters and streamers a serious upgrade.
Read the full Shure MV7 Podcast Microphone review.
There's a reason Blue microphones tend to show up in a lot of recommended product guides. The Blue Yeti X is a hybrid model of the Nano and the original Yeti, an amalgam of the better bits of both. 
The sturdy microphone now has an LED-lit front panel that usefully monitors your volume levels at a glance, and the sound quality remains top-notch. It's clear why this is the mic of choice of many professional podcasters and streamers. 
Blue recently released a World of Warcraft Edition Yeti X. It offers the same features as the Yeti X, except it's rocking a nice black with gold trim design along with some neat fantasy glyphs all over the mic. More importantly, it lets you choose to voice to various Warcraft races like gnomes, imps, and of course, Orcs. 
The HyperX SoloCast is the best of a slew of new budget-oriented microphones. This new breed delivers their more expensive siblings' audio performance, prioritizing the sound over extensive feature sets for a frankly fantastic price. 
With the JLab Audio Talk GO and Razer Seiren Mini all offering great sound, the HyperX SoloCast stands above the others because it's essentially giving us the audio chops of its pricier QuadCast S compatriot. That's a fantastic microphone in its own right, and we can bear losing the full list of features and range of polar patterns when we want an easy plug-and-play mic.
I mean, you lose the sexy RGB lighting of the QuadCast, which is missed, but they sound almost identical. And if you're just after higher-quality audio, and don't want to start messing around with gain settings mid-stream, then the SoloCast could be all the mic you need.
Source: pcgamer.com
Tags: #Hardware #microphones #podcasting #RTX Voice #Streaming #Twitch