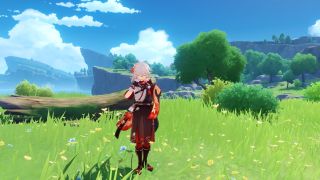 Genshin Impact's Kazuha is the next character set to join the game as part of the 1.6 update. This wandering swordsman hails from the Inazuma region, and he's been a bit of a mystery for a while. One thing we do know is that Kiryu Kazuha will be the first five-star Anemo character to arrive in Genshin impact since Xiao. 
Half the Kazuha materials come from Inazuma-specific bosses and enemies, so we weren't able to access them until the 1.6 update. And while his release date still hasn't been confirmed by miHoYo, it's widely assumed that his banner will be launching very soon. Of course, that doesn't stop you from planning ahead to figure out how Kazuha fits with the rest of your team.
This theorycrafted Genshin Impact Kazuha build guide should help you do just that.
Kazuha is the only new character in the Genshin Impact 1.6 update. This five-star Anemo character isn't available quite yet, though. While it's not confirmed, we're expecting Kazuha's banner to go live when Klee's first banner re-run ends, on June 29. 
This character teaser trailer gives us a little insight into Kazuha's character, as well as more context to his backstory, following the escape from Inazuma. 
Kazuha is a ronin, a wandering samurai from Inazuma with no affiliations to any lord or leader. His leaked character description from Honey Hunter describes Kazuha as a "gentle and carefree" person hiding a good many burdens deep in his soul. 
Kazuha's attack makes him weaker than Xiao and Eula, but stronger than Zhongli. However, it seems raw attack won't be Kazuha's biggest strength anyway, as he wields a multi-layered set of elemental abilities that make him perfect for offense and support.
The Kazuha materials for leveling up revolve around two new items found only in Inazuma: Sea Ganoderma and Maguu Kishin. There's no hint yet where either item might be, though it would make sense if Sea Ganoderma is a coastal item.
Maguu Kishin's in-game description (thanks Honey Hunter) mentions it powers a machine, so it's possible Inazuma is home to a new Ruin Guard enemy. The other materials are standard Vayuda items, from Stormterror or the Anemo Hypostasis, and Insignia items from Treasure Hoarders.
Level 20
Level 40
Level 50
Level 60
Level 70
Level 80
Source: pcgamer.com
Tags: #Genshin Impact #guide #miHoYo #RPG