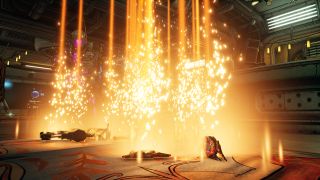 As has become tradition with each new Borderlands game, Shift codes are Gearbox's go-to way to dole out sweet post-launch loot. On a fairly consistent basis, Gearbox simply gives away these rewards through chunky 25-digit codes redeemed at shift.gearboxsoftware.com. Mainly, Borderlands 3's Shift rewards have revolved aroudn Golden Keys—special keys used at a chest in Sanctuary to unlock shiny new guns. It's quite a bit like loot box systems from other games, except these are free. The main catch is that Shift codes almost always expire, and sometimes pretty quick. That's why it's handy to keep a guide like this bookmarked. We're keeping a living log of every Shift code is it comes in alongside its reported expiration and the occasional permanent code. There's usually at least one code going around that'll work.
First up: The Borderlands 3 Shift codes that you can use right now to get 8 Gold Keys right away. Scroll down for the latest Shift codes and a guide to how to register them and use them in-game.
If you're still playing Borderlands 2, head over to our collection of Borderlands 2 Shift Codes.
These Borderlands 3 Shift codes unlock Golden Keys, and should never expire, as far as we know.
Most of Borderlands 3's new Shift codes expire within a few days of being posted on Twitter. Here's what you can redeem right now:
So far, many of Borderlands 3's Shift codes have expired after only a few hours, and are posted exclusively on Randy Pitchford's Twitter account. Following him is the best way to catch Shift codes that expire within 24 hours. You can usually spot one on Fridays in preparation for the weekend that will expire on Saturday morning.
Alternatively, the fan-run dgShiftCodes Twitter account posts every new Shift code after Randy tweets them out.
The Borderlands 3 VIP program officially ended on May 18th, 2020.
Prior to Borderlands 3's launch, Gearbox gave out Vault Insider Program keys that worked similarly to Shift Codes. You earned them by doing things like watching trailers or following its social media. 
Now that Borderlands 3 is well past launch, the program has been discontinued. You are no longer able to redeem any of the old codes.
Borderlands 3 Shift codes come in two forms, although only the Golden Keys above have been dished out so far. Here's the gist:
Gearbox may even have more plans for what you unlock with Shift codes in the future, but the redemption process is the same no matter what, and it's pretty straightforward—the easiest way is to use the website Shift.GearboxSoftware.com, after you've linked up your Epic Games Store, Steam or console account.
Here's how to redeem Shift codes:
In-game, your golden keys should be delivered to you via Borderlands mail. But how do you use 'em? That's simple: Head to the big golden chest in Sanctuary, near the fast travel point. Here's where to find it, and what it looks like: 
Pop your key into the chest, cross your fingers, and ask the gun gods for a legendary. Good luck! 


Source: pcgamer.com