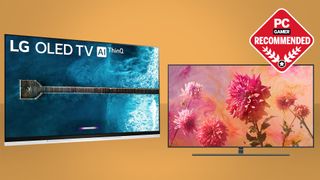 The best gaming TV is your best choice for a big screen gaming setup in your living room, and one that can quickly transform into a socially distanced at-home cinema. These days the best 4K TVs will often even rival the best gaming monitors in terms of fidelity, too, and the days of sluggish response times on TVs are now behind us when it comes to the top panels. There's even the added benefit of fancier panels, such as OLEDs, that have not yet graced our desktops in any meaningful way.
At the moment your choices for the glorious OLED panel technology, in PC terms, are limited to high-end gaming laptops or the best gaming TVs.
Now that the Nvidia RTX 3080 and AMD RX 6800 XT have launched, 4K gaming is utterly accessible—provided you can grab one. And will make your games look phenomenal stretched across the sort of screen sizes you simply don't see in the world of monitors (with a few exceptions). These new GPUs can nail 120fps at 4K in all but the most challenging games.
Then there's the promise of 8K gaming with the RTX 3090, delivered through the power of DLSS, or Deep Learning Super Sampling. While that's a mighty aspirational goal for any PC gamer, we're going to stick with the best gaming TVs at 4K for the most part. It's more attainable than 8K, and you're more likely to put that TV to good use at its native resolution with today's hardware.
There are a couple of benefits to picking a TV as your primary display. For a start, a gaming TV, with a 120Hz refresh rate and high-quality HDR, will be noticeably brighter than your typical gaming monitor. And then there's the size—you're likely to get a much bigger panel than you would with almost any of the traditional gaming monitors out there. Many high-end TVs also come with game-focused features these days too, so you can enjoy technologies such as FreeSync or G-Sync on your big screen panel of choice too. 
The first OLED TV under 50-inches was always going to be a watershed moment for PC gaming. Sure, strapping a 65-inch monster to the wall so you can game on your couch is appealing, but this is the first OLED TV to actually retail in a 48-inch form factor you could realistically use on your desk.
It's going to have to be a pretty big desk, and sturdy too, but you'd be surprised just how rapidly you will adjust to having such screen real estate in front of you. And given that actual OLED monitors are rare as pigeon teeth right now, this is arguably your best bet for PC gaming on an OLED panel.
And though it is a TV, it's certainly not devoid of PC sensibilities. LG has now added AMD FreeSync Premium support to the existing Nvidia G-Sync compatibility the company added to last year's models. 
In terms of picture quality, no other technology can match the contrast and black levels of the self-emissive pixels in an OLED screen. Match it with a 120 Hz refresh rate and superior HDR chops, and this is almost the perfect PC gaming screen, and certainly the best gaming TV.
Read the full LG OLED48CX – 48-inch 4K TV review.
With each year, LG's OLED panels get stronger and stronger for gaming and a better contender for the best gaming TV title. The E9 is 2019's model, and it packs in many of the same features from the previous year's E8 (our favorite gaming TV for so long), albeit with some key changes. The panel is still among the thinnest of all 4K TVs, and it brings unrivaled black levels thanks to the OLED tech, allowing individual LEDs to be completely switched on and off. That's how you get such deep blacks and the clarity and sharpness of image with them. It makes the E9 panels perfect for darker games like Metro: Exodus and Resident Evil 2: Remake.
The even better news is that G-sync is enabled on all E9-series TVs when you have Game Mode active, so you no longer have to suffer through skipped frames and torn pictures when playing at higher frame rates. Unless you're gaming on an AMD card… LG has recently stated it has no plans to support FreeSync on 2019 OLED screens at all.
Away from frame-syncing, HDR isn't toned down in LG's Game Mode either, so you still get that vibrancy while benefiting from a better response and refresh rates. Unfortunately, you can still only play 4K at 60Hz on the E9-series (as it was with the E8), but the response rate has been boosted over the previous year, and now sits at a handsome 6ms for 1440p and 13ms for 4K. 
The LG E9 is also capable of Dolby Atmos 4.2 sound, which is perfect for 4K movies if you run them through PC, and while its HDR brightness isn't quite on a par with the QLED panels from Samsung (which favor color vibrancy over deep blacks), the Dolby Vision here is superb. As with most OLED panels, the thinness of the screen means the sound output itself is never going to be as rich as a separate speaker system (speaker size is sacrificed for aesthetics), but the E9 still manages surprisingly good audio that surpasses the E8. We'd recommend a premium gaming headset to really set the experience off, or a top-class audio system, but it's by no means a deal-breaker.
While OLED is best for the inkiest of blacks, Samsung's QLED tech leads the way when it comes to vibrant colors and vivid contrasts. The Q9F is 2018's best 4K TV, and consequently one of the best gaming TVs. While it has now been replaced as the flagship model by the Q90R, it remains a showstopping panel. What's more, you can now pick it up for half the price, making this elite TV actually affordable, and it has almost all the features present in the newer (vastly more expensive) Q90R.
Source: pcgamer.com
Tags: #4K gaming #Hardware