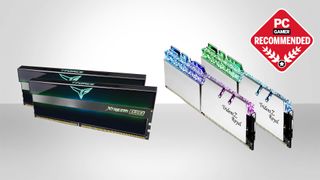 With the best RAM for gaming, you can ensure that your CPU and graphics card are running optimally. It's the easiest and swiftest upgrade for your rig, and seeing as dropping the best graphics card into your system is out of the question for most of us right now, this might just fill the gap—it can be just as vital, and ensure whatever GPU you have isn't waiting on resources to be freed up.
The TL;DR is this: For a straightforward RAM choice based on speed and capacity, pick a 16GB or 32GB set at 3,200MHz for Intel processors and 3,600MHz for AMD's latest offerings. That should see whichever platform you're using perform admirably. But there are other options worth considering if you want to delve deeper into the specifics.
If you're wondering exactly the kind of difference gaming RAM can make to your system, we cover all of this and more in our RAM speed for gaming deep-dive—including the slightly more technical memory latency metrics. Today there are more affordable low-latency options around, many perfect for AMD Ryzen gaming PCs, so don't be afraid to chase down a pair of swift RAM sticks for maximum system optimization.
Whatever your specific needs may be, we've chosen some of our favorite options for PC gaming below. Here's our list of RAM kits we've tested at differing price points so that you can spend your money well.
With a CAS latency of 14, the Team Xtreem kit leads the way in low-latency RAM favored by gaming PCs, especially AMD Ryzen rigs. As such, it takes the top spot as our pick for the best RAM for gaming.
Not all that long ago, a kit as well-rounded on both price and performance would've been a distant dream. However, a recent DRAM price crash and an increasing process maturity in DDR4 production mean kits such as this can often be found for far less than they would've been only a couple of years ago.
That's great news for anyone eyeing up AMD's Ryzen CPUs, which favor a memory clock around the 3,600MHz mark—thus ensuring the Infinity Fabric clock is kept at a 1:1 ratio with your memory and your chip ticking over happily with minimal latency penalties. A kit such as the Team Xtreem is optimal for AMD Ryzen CPUs.
Even the RGB lighting on this kit is kept in moderation. Each DIMM features diffused RGB lighting that creates a glow-in-the-dark effect. And while that doesn't sound great on paper, it's surprisingly smart in the flesh.
If you want to eke out all your CPU has to offer and ensure your system looks fresh in the process, the Team Xtreem ARGB kit is a great option—just a shame about the name.
Read our Team Xtreem ARGB DDR4-3600 C14 gaming memory review.
Corsair has outdone itself with the Dominator Platinum RGB. The original DDR4 kit has been our favorite high-end memory bundle for quite some time now. Its sleek exterior, patented DHX cooling technology, and unrivaled performance has made it a formidable flagship over the years, often topping our best RAM for gaming list. Now, the iconic Dominator Platinum is back with a stealthy new design and Corsair's new Capellix LED technology.
The Dominator Platinum RGB takes the same best-in-class performance as the original, adds higher-clocked SKUs, and 12 individually addressable Capellix RGB LEDs. The new LEDs are brighter and more efficient than previous iterations and are only available from Corsair. Combined with Corsair's iCUE software, the Dominator Platinum RGB has become both the best RGB and high-end performance kit. 
The price doesn't differ too much from the original non-RGB Dominator Platinum, but you're still paying a hefty premium than some of the other kits mentioned in this guide. We still think it's well worth every penny if you can afford it, whichever capacity kit you go for.
Read the full Corsair Dominator Platinum RGB review.
G.Skill's Trident Z RGB RAM has dominated our guide for years now, and it's no surprise the company's Trident Z Neo series has also earned a spot here. Like the original Trident Z RGB series, the Trident Z Neo comes equipped with brilliant RGB lighting done in a very tasteful manner. More importantly, the Neo series is optimized for AMD Ryzen builds, making this budget-friendly option the perfect choice for budget-conscious Ryzen PCs.
Source: pcgamer.com