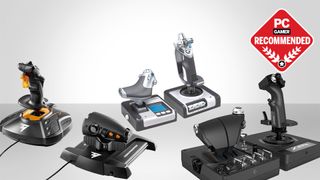 The best PC joysticks have a massive impact on the amount of fun you can have with your games. They are just as important in 2021 as they were last year. Not only is the stunning and expansive Microsoft Flight Simulator now on VR, but the super-exciting Star Wars Squadrons now also lets you relive your X-Wing Vs Tie Fighter fantasies, to name just two experiences crying out for a quality flight stick.
We recommend getting yourself the best gaming keyboard and best gaming mouse combo, but these alone will never make you feel like Top Gun's Maverick. Playing Elite: Dangerous without a great HOTAS is basically sacrilegious. That's Hands-On Throttle and Stick to the uninitiated, not code for having warm buttocks.
If you're a diehard flight simulator fan, the high-end flight stick manufacturers Virpil and VKB may be more to your taste with their instrument-rated designs. They can be prohibitively expensive, fiddly to assemble, and also seem to be constantly out of stock though, so we've omitted the likes of them from our list. 
Instead, we've opted for the best joysticks that require minimal setup. Though if you do favor ultra-realism in your flight sim of choice, then Thrustmaster has released its branded Airbus civil aviation gear that looks like it was ripped out of an A320, although I hear those things fly themselves nowadays.
We've compiled a list of our favorite PC joysticks and listed them below, along with a few key points to help you come to a decision. And though a lot of the models listed here aren't cheap, such an immersive experience is worth the extra expense.
The Thrustmaster Warthog is hands-down the best PC joystick you can buy. It's beautifully made, looks like it was ripped straight out of an A-10, and comes with an industrial strength that means the only thing left in our post-apocalyptic future will be a bunch of cockroaches trying to figure out how to use these sticks.
Sure, it's an expensive unit, but you will know your money's been well spent as soon as you lift the lid on the packaging and pull the setup out. The stick alone weighs a kilo even before it's been screwed down onto the solid, wide metal base. That's something to behold, but the throttle is something else. 
It is one of the finest pieces of PC peripheral engineering I've ever experienced. Its casing is entirely made of metal and festooned with buttons. And not just buttons either, extra hat switches adorn the throttle itself, one that can be split in two should you need discrete control, and there are a host of toggles and metal flick switches too. I will honestly just sit there idly flipping switches even when the thing's unplugged, so satisfying is the action.
All that weight means it practically sticks to your desk as you fling your Cobra MkIII around in Elite: Dangerous like a BSG Viper, and if you're so inclined the drill holes are there if you want to make it a permanent addition too. It feels great to use in-game too, providing you with all the possible control permutations you could need without ever having to go near your keyboard again.
The only slight miss, and one that owes to its A-10C Warthog replica status, is the lack of Z-rotation on the stick to offer rudder control. Though that's easily mapped onto any number of extra hat switches or even extra analog joysticks.
The Warthog was originally released over ten years ago now and yet is still the best you can buy. This explains why the price has steadily crept up since then too. But trust me, if you're serious about the best PC joystick this is it, and once you pick it up you'll never think about its price again.
An update to the aging X55, the Logitech X56 HOTAS is an improvement on nearly every aspect of the older Saitek design, but it still has many of the same features that made its predecessor great. The throttle can be unlocked to provide inputs for left and right engines individually, and the throttle panel also plays host to an entire series of metal switches and knobs that feel absolutely awesome. 
I was a bit disappointed to find out that the metal top plate on both the flight stick and throttle don't extend to the base, and that both the stick and throttle are composed mostly of plastic. The hardware still feels sturdy, but the seam running along the handle of the joystick is a bit jarring given the quality present on the rest of the build.
The entire setup for the X56 is deceptively light. While it does come with suction cups that can be attached to the base for increased stability, without them I found the stick and throttle far too eager to slip around on my desk. However, for those inclined to make this indulgence a more permanent part of their setup, the X56 has holes present in its bases to allow you to affix it to nearly any surface with the appropriate hardware.   
Featuring adjustable stick tension and over 180 programmable controls, this throttle and joystick combo is a quality setup. It's not quite in the same league as the Warthog, but it is a little cheaper. If you're ready to kick tires and light fires, the X56 is a good way to go.
Source: pcgamer.com
Tags: #buying guide #Hardware