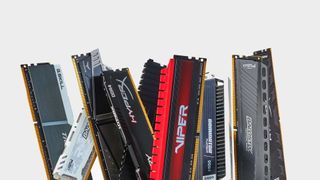 How much impact does system memory have on gaming performance? It's a subject we periodically like to return to, especially when things change. That happened when Intel released the 11th Gen Rocket Lake platform and the idea of decoupled Gear 1 and Gear 2 memory with promises of super high-speed RAM. 
Compared to the 10th Generation Cores, the 11th Gen platform introduced a fundamental change to the memory subsystem, which decouples the memory controller and memory frequency. 
A while back we conducted a barrage of tests with AMD's Ryzen 5000 series, reaching the conclusion that DDR4-3600, with good timings, provided a good sweet spot level of performance, and that you shouldn't waste money chasing RAM speed for gaming. This time we're using Intel's 11th Generation Core i9 11900K, with its promise of enthusiast-level memory overclocking performance.
Have things changed, with the potential for 5,000MHz memory kits, and are we looking at a world where high-performance memory has a tangible performance impact on our gaming machines? Again, it's a no from us. 
Intel CPUs have traditionally run the memory controller and memory clock at the same speed, or 1:1 with each other. 11th Gen Rocket Lake CPUs introduce an option to set the memory controller at half the speed of the memory clock, or 1:2. Intel refers to 1:1 mode as Gear 1 and 1:2 mode as Gear 2. 
For example, at DDR4-3200 with Gear 1, the memory and memory controller are both running at 1,600MHz (remember that DDR refers to double data rate). When Gear 2 is selected, the memory speed would be 1600MHz while the memory controller is reduced to 800MHz.
Our test system consists of an Intel i9-11900K, set to run at a flat 5.0GHz. This is to ensure that changes to the memory subsystem are more clearly visible, and not unduly affected by turbo modes jumping all over the place.
To date, the Gigabyte board is the the only Z590 that's let us test the particular G.Skill DDR4-4000 Trident X Royal kit we're using at DDR4-4800 with complete stability, albeit at voltages we'd not recommend for a 24/7 user. We're also using a set of TeamGroup Xtreem ARGB DDR4-3600.
Both kits make use of the fancied Samsung B-Die, which is a favorite of overclockers thanks to their ability to run tight timings at a given speed. Most of the brand new Rocket Lake optimised DDR4-5000 kits, on the other hand, are using Hynix or Micron IC's. Are they impressive? Yes. Practical? No. Expensive? You'd better believe it.
Coincidentally, both Intel 11th Gen and AMD Ryzen 5000 CPUs—despite being wildly different architecturally—actually behave in similar ways when it comes to memory. Much like Infinity Fabric in 1:1 mode, Gear 1 works like a charm up to around DDR4-3600, but from there it gets a lot more difficult, and a switch to Gear 2 is needed. 
Even with a purpose-built OC motherboard, such as our Gigabyte Z590 Aorus Tachyon, DDR4-4000 at Gear 1 resulted in a no post. In our testing 3,733MHz was able to boot, but it required far too much SA voltage to make further testing worthwhile.
In a perfect world, we'd test at many different speeds and timings, and even look at different capacities. That's just not possible unless a week or 3 without sleep is an option. We began with a test at DDR4-2400. This speed is all but irrelevant in today's market, however, but it's still a common JEDEC system default and we've included the results as a baseline. Running with Gear 2 makes no sense at this speed as you lose too much performance.
DDR4-3200 at 16-18-18 reflects the kind of kit that you'll find in many 2021 gaming systems. This speed, along with DDR4-3600, occupy the price/performance sweet spot for both Intel and AMD systems. 
We tested at 3,600MHz with tight timings so we can see how a high spec 3,600MHz kit at Gear 1 compares to a 4,800MHz kit at Gear 2. We don't have one of the very latest 5000MHz + kits on hand, but our trusty G.Skill 4000 C15 kit is good for 4,800MHz, and it's still a damn fine set of RAM in anyone's language. 
We chose to run DDR4-4400 and DDR4-4800 at identical timings purely to see the effect of the increased frequency and memory controller clock.
Source: pcgamer.com