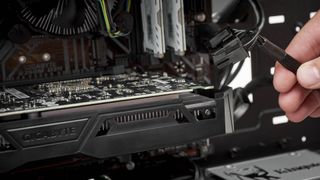 Building your own PC inevitably turns you into a bit of a mad scientist – a tinkerer obsessed with refining, upgrading and exploring the insides of your magnificent gaming machine. This may sound a little daunting to people upgrading to PC from their consoles for the first time (burn intended), but it's really not that hard, especially if you use a part-picking website to help you build it.
Well, venerable electronics retailer Currys has stepped up to offer just that: a PC builder feature on its website that helps you build the PC of your dreams. 
Here's how it works:
First, go to the PC Builder page on the Currys website. Before that, you can check out their guide on how to build your gaming PC, just so you know your GPUs from your CPUs. 
Back on the PC Builder page, you can start picking your components one by one. You don't necessarily need to start with the first option (tower case), because maybe you've read about that sweet GeForce RTX 3070 and want to build the rest of your PC around that. In which case, you'd start with the GPU.
On the other hand, if a small form-factor case is your priority, then you should choose that first as the PC Builder will automatically filter the rest of the components to ensure that everything you're looking at is compatible with the parts you already selected. This will ensure that you're not left disappointed when, say, your new Ryzen 5 CPU doesn't fit into your motherboard (yep, we've been there).
As you can see here, we've gone for the Corsair 280X Mini Tower – a beautiful but compact case that won't be compatible with full-size ATX motherboards. So when we then look at motherboards, it will only show us microATX and miniATX motherboards. Pretty neat!
And don't worry – that RTX 3070 will still fit in this case.
As you select each component, you can click 'More info' to look at things like the dimensions of CPU coolers, or the specs of GPUs. To go into even more detail, you can always click 'View product' to see its product page. You can also click 'Filters' at the top right corner to further narrow down the components you're looking at.
So keep clicking those components until all eight boxes are filled and you have everything you need for your PC. And don't forget to peruse the lists of gaming accessories, gaming chairs, monitors, and other essentials!
As usual, you can pay immediately or opt for Currys' Currys Buy Now Pay Later, which means you don't need to pay anything for 12 months when you spend over £200 on PC components (and who wouldn't be tempted by a year's worth of free PC gaming?).
Building a PC with PC Builder is a great way to get to grips with the inside of your machine. It will make sure you have all the right components, then lets you put them together yourself. By seeing just how modular your PC is and learning which parts go where, it puts you in good stead to upgrade it yourself in the future.
But hey, don't think about that for now. Embrace the learning experience of building your own PC with Currys' help, then bask in the untold hours of gaming your bespoke rig will provide for you. 
Source: pcgamer.com