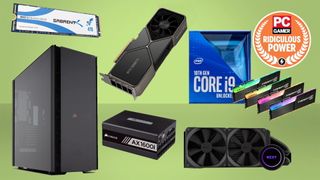 This extreme gaming PC build will grant you unlimited power… It's carefully selected components will be able to take on any of the top games today, on the highest graphics settings, at 4K or even 8K—a gaming PC without compromise. It won't be cheap, but this beast utilizes the best CPU for gaming combined with the best graphics card and squeezes the best possible performance out of both.
At around $4,200 this extreme gaming PC build will push your frame rates through the roof. But if that price makes you choke, check our our high-end PC build guide instead for a build that won't leave your wallet bare.
That estimate doesn't include peripherals or accessories, either, so if you need to cut costs to pick up a gaming monitor or one of the best gaming headsets, you can always go for a smaller SSD or slower RAM. These can be easily upgraded down the road. I wouldn't skimp on the CPU or GPU though—these are the heart and soul of your setup.
One thing to consider: With the component supply chain in shambles at the moment, CPU and GPU stock is sparse. You might want to consider picking up a pre-built system if you're after the best gear. Otherwise, if you're determined to build it yourself, and manage to spot some available stock of a like-for-like product, go for it.
Handling the high-end components of an extreme gaming PC can be daunting, especially if this is your first PC build. Have a look at our guide on how to build a gaming PC before you jump in to ease your worries.
Best gaming monitor | Best gaming mouse | Best gaming keyboard
Best gaming headset | Best gaming router | Best gaming chair
The Intel Core i9 10900K is no longer the world's fastest gaming processor, but the newer Core i9 11900K is not one we would recommend to anyone looking to build an extreme gaming PC. You could argue that the AMD Ryzen 9 5950X is more deserving of a place in an extreme PC build thanks to its 16 cores and 32 threads of processing power, but it's tricky to find right now, so Intel's top CPU is still your best option.
Intel's historic gaming performance lead is still intact, if only just, and the 10900K, with its 5.3GHz all-core overclocking chops, is still the king when it comes to pure frame rates. You'll need a decent motherboard, some serious cooling, and a powerful PSU to get the most from it, but that's what this build is all about. 
Here are the best CPUs for gaming right now.
If the CPU is your new PC's brain, the motherboard is the nervous system and other vital organs that keep things running smoothly. Skimp on a motherboard at your peril.
The Asus ROG Maximus XII Extreme employs the Z490 chipset, which means it's primed to handle Intel's 10th gen (and potentially 11th gen) processors. There are no less than four M.2 slots for you to play around with, two on its ingenious DIMM.2 riser board, and it also offers up support for Thunderbolt 3 on another add-in card with two mini DisplayPort connectors.
On top of that, you get access to cutting-edge networking goodness, too, including 10Gbps and 2.5Gbps Ethernet as well as Wi-Fi 6 (aka 802.11ax) wireless connectivity. There are tons of USB ports, and, of course, its RGB lighting works with a bunch of Aura Sync compatible peripherals. 
If you prefer options then check out our list of the best gaming motherboards in 2020.
The GeForce RTX 3080 Ti essentially offers the same gaming performance as the RTX 3090 but costs $300 less. Even here, with our extreme build, we can't help but keep a vague eye on value for money, and with the release of the 3080 Ti, Nvidia has basically retired the RTX 3090 when it comes to gaming. The RTX 3080 Ti is still a $1,200 graphics card, and that's if you net the Founder's Edition and not a pricier third-party job. It's hardly a budget option.
The only reason you might want to track down an RTX 3090 still is if you want to pair up your graphics cards, as at least for Nvidia Ampere, the RTX 3090 is your only option. It's the only RTX 30-series card fitted with the required connection for an NVLink bridge, but even with that installed, you'll still have to worry about whether the games you play support SLI. Hint: most don't, and support is only dwindling further as time marches on. 
Comparisons to the RTX 3090 aside, the key consideration for the RTX 3080 Ti is that it is a supremely capable card when it comes to 4K gaming. Even ray tracing is on the table, especially if you're happy to turn on the modern magic that is DLSS 2.0—framerates are smooth and the final image quality stands up to close scrutiny without issue.
Source: pcgamer.com
Tags: #Asus ROG #buying guide #Extreme #Featured Guide #Hardware #intel #Nvidia #PC build guide #PC builds #samsung