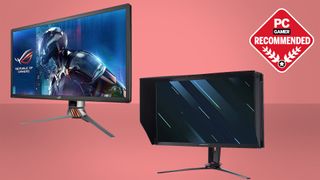 Buying the best 4K gaming monitor should be top of your list right now. The current generation of graphics cards are capable of delivering high 4K frame rates in the latest games deep into their line ups. Even the Nvidia GeForce RTX 3060 Ti and AMD Radeon RX 6700 XT are surprisingly capable 4K GPUs. Sadly, even those lower tier cards are tough to find these days, but why not get a capable gaming monitor in anticipation?
If you have managed to bag a higher spec Nvidia 30-series cards—such as the RTX 3080 or RTX 3090, or the exceptional new RX 6800 and RX 6800 XT cards from AMD—the best 4K gaming monitor is the perfect thing to show off all that your new setup can do. 
In most cases, you're going to want a VA or IPS gaming monitor, with a refresh rate above the 60Hz baseline, and some form of frame-syncing capability—either G-Sync or FreeSync. You also have to decide whether to size-up with one of the best gaming TVs instead, for deeper immersion. If you have the space, that is.
A big screen 4K gaming monitor will reveal countless levels of detail that were previously hidden from you. In fact, pretty much anything above the 27-inch mark will make a big difference. 
Spending that little more on one of the best 4K gaming monitors is certainly worth it, especially when you consider it might need to see you through a decade of action-packed, next-gen gaming. The best 4K gaming monitor will be able to produce breathtaking quality for all those years, spanning many iterations of your Theseus' ship of a PC.
4K gaming is a premium endeavor. You need a colossal amount of rendering power to hit decent frame rates at such a high resolution. But if you're rocking a top-shelf graphics card, like the new RTX 3080, then this dream can be a reality at last.
The LG UltraGear is the first 4K Nano IPS 1ms gaming monitor that'll properly show off your next-gen GPU. This 4K 27-inch HDR monitor has a 144 Hz refresh rate and 1 ms response time, wild for a 4K monitor. What is most impressive about this LG is the Nano IPS tech that offers a wider color gamut and stellar viewing angles.
The LG UltraGear 27GN950-B bags you a terrific panel with exquisite IPS image quality and, despite the lesser HDR capabilities, beautiful colors and contrast in your games too. G-Sync offers stable pictures and smoothness in games, and the speedy refresh rate and response times back this up too. 
A close cousin of the Acer Predator X27, itself once the top of this pile, the XB273K is a seriously excellent 4K monitor. It harnesses everything the X27 does, trading off very little to rehouse it in a far cheaper model. 
Now often found sitting just below the $1,000 mark, it is immediately more tempting than the Acer X27, and the only real change is in the HDR; the XB273K has a slightly lower quality of HDR. But that's about it. And considering the still nightmarish state of HDR gaming on PC, that's not a huge miss.
You'll still get a truly excellent picture quality, with terrific color quality, contrast, and depth; the 144Hz refresh rate means it's excellent for faster shooters or online games too. G-Sync offers the best adaptive sync technology, an impressive array of ports covers you, and overall it offers such a well-rounded overall experience you'll have zero regrets.
Read the full Acer Predator XB273K review.
Perhaps a little obvious, but packing lots of top-end features into a display means it'll have a price to match its excellent quality and capabilities. The Asus ROG Swift PG27UQ follows this pattern as it is an incredible display but at great expense. The difference here is yet more features you can cram in—one in particular—that perhaps set it slightly apart from the rest. As well as the ridiculously clear, bright and detailed images that the PG27UQ's 4K and HDR-enabled 27-inch display shows off, this monitor also incorporates Nvidia G-Sync tech, making this an absolute behemoth of a screen. Though we do wish the contrast was better on this nearly perfect screen. 
On the back, it's a bit lean on the connections, but you should have everything you need: present are an HDMI 2.0 input, DisplayPort 1.4, 3.5mm audio, and two USB 3.0 ports. It's also an incredibly well-designed bit of kit with the stand effectively funneling cables, as well as looking cool. I especially like the ROG eye that shines on the surface wherever you put the monitor. 
The list price is very high, so it might well put people off, but it will not disappoint those who take the plunge.
Read the full Asus ROG Swift PG27UQ review.
Source: pcgamer.com
Tags: #4K #buying guide #FreeSync #g-sync #Hardware #monitors