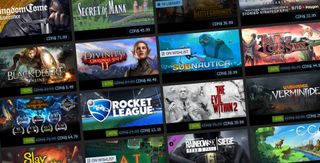 Steam Sale start dates are a guarded secret at Valve, but they always seem to slip out before the sales actually happen. Information is shared with developers and partners, but if customers knew exactly when a sale was going to drop, many would simply wait for the discounts. 
Fortunately, Steam sales happen fairly consistently across the year, making them fairly easy to predict. Even amidst Covid-19 delays in 2020, Valve's sales were full steam ahead. The same has been true so far in 2021.
The seasonal sales offer the broadest and deepest price cuts, and they tend to occur during Spring, Summer, Autumn and Winter. Although they haven't done a spring sale for the past couple years, Valve is running a new Open World Sale this year. Read on for when to expect the next Steam sales come in 2021.
Steam sales (usually) occur at regular times of the year. By looking back at Steam sale dates from the last few years we can guess approximate dates for 2021. 
Steam sales tend to start at at 6pm BST/1pm EDT/10am PDT on the third or fourth Thursday of their respective month, with the exception of Autumn/Black Friday sales, which have landed on Wednesdays in the last few years.
Steam Lunar New Year Sale 2021: February 11th – February 15th, 2021
Steam Golden Week Sale 2021: April 29th – May 6th, 2021
Steam Spring Sale 2021: May 27th – 31st, 2021
Steam Summer Sale 2021: June 24th – July 8th, 2021
Steam Halloween Sale 2021: Likely the end of October 2021
Steam Black Friday/Autumn Sale 2021: Likely November 24th, 2021
Steam Winter Sale 2021: December 2021
The Summer and Winter sales are the big ones. They tend to last two weeks (ish). Other sales like the Lunar New Year sale and Black Friday sale last about one week. 
We tend to see the biggest discounts in the Summer and Winter sales, and the Summer sales tend to be the best. Autumn and Winter sales tend to be a bit too close to the Fall release season to allow for significant discounts on new releases. By the following summer you can get great discounts on relatively new games. (Here's how long it usually takes for games to get cheap on Steam.)
In the past, when we've rounded up the best Steam deals ever, we've seen some remarkable discounts. Valve's Portal 2 went from $50 to $5 in the Summer Sale a year after release.
Source: pcgamer.com
Tags: #guide #Steam #steam sales