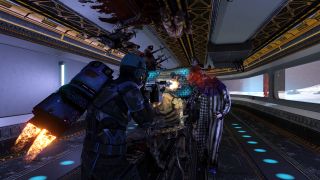 Co-op zombie FPS Killing Floor 2 is queueing up yet another of its free game updates, complete with a new map, new modes, and new weapons. This time, you can wave goodbye to the infested surface of planet earth. The Interstellar Insanity update is taking you and your Zed hunter friends to the moon for a nice space break. Wait, no. It turns out the moon is also crawling with Zeds. This won't be a summer space camp vacation after all. You'll be able to blast off for low-gravity fire fights in the free update starting on June 22.
The centerpiece of the Interstellar Insanity update is the new Moonbase map. It's a standard survival map that rounds out the trilogy of Ringmaster Lockheart maps. He's shot you to the moon via steam rocket this time around, the swell guy. It turns out that the Moonbase in question is actually a Horzine Biotech research facility. You know, the folks responsible for the outbreak. You'll be shocked to hear that the place is absolutely crawling with Zeds. Good luck shooting Zed heads in low gravity. You can catch a preview of all the moon gravity shooting  in Tripwire Interactive's trailer for the summer update:
The base is also loaded with new weapons for you to use on the space Zeds. The HRG Bastion is a new tier 5 SWAT weapon with a handy energy barrier to reduce incoming damage. Just be careful not to let it run out of juice. The HRG Blast Brawlers are a pair of mechanized fists that shoot shotgun blasts out of each punch, which seems pretty perfect for handling floating space monsters. The update also adds the FAMAS Masterkey assault rifle with an under-mounted shotgun and the Thermite Bore with its detonatable harpoons.
As for what you'll be doing with all those new tools of space base destruction, Interstellar Insanity is bringing two new weekly outbreak modes to the rotation. In the Scavenger mode, you'll be forced to scrounge around on the map for weapons as they can't be bought from the trader. Weapon drops will scale to your crew's current tier and perks for each wave, so you should be able to dig up something useful. The Arachnophobia mode is pretty much as creepy and crawly as you'd think. Sure enough, there are a lot more Crawlers on the map and they've got more health than usual. Fortunately, your stomp damage is also increased, all the better for squashing the worst kind of Zeds.
There's plenty more in this year's summer update, including five new seasonal objectives, rewards for completing those objectives, cosmetic rewards for completing either of those new game modes, and more. If you were anticipating the usual summer chuckles, not to worry. The circus-y Summer Sideshow Zeds are back again this year. New map difficulty, achievements, and astronaut cosmetics are packed in, too. Over on the quality of life side, Tripwire has made weapon and perk balance changes based on community feedback and a set of fixes for reported bugs alongside the content update as well.
Killing Floor 2's Interstellar Insanity update launches on June 22 free for all game owners. If you aren't one yet, you can find Killing Floor 2 on Steam and the Epic Games Store, PlayStation, and Xbox.
Source: pcgamer.com