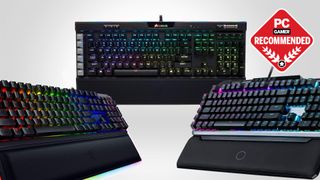 The best gaming keyboard for your setup will mean understanding your typing needs and preferences deeply before you buy. Beyond basic beige scissor switches, in the realm of more advanced mechanical boards, you're looking at an entirely new level of gaming experience. Once you find your perfect fit, every interaction with your PC will leave you brimming with phenomenological delight.
The sweet, slick key press of your favoured mechanical switch will have your fingers feeling less fatigued, your response times swifter, and your key presses more absolute. There's also room for much more personalisation than a rubber dome keyboard could deliver. From smooth linear action, to typewriter-esque click clacks, and a range of RGB lighting configurations, there's something for everyone in the land of mech boards.
We've been over what style of keyboard is right for you, so check that out if you're tossing up between a full-size, TKL, or 60 percent board. There are countless combinations, but these are our pick for the best gaming keyboards you can buy today. 
____________________________________
Amazon Prime Day gaming keyboard deals
Alternatively, if you can't quite justify the cost of one of these bad boys, the best cheap gaming keyboards wont break the bank, but you may find them lacking the competency you'll find here.
When you want to go the extra mile and upgrade to the absolute best of the best, it's hard to find a more premium option than the Corsair K100 RGB. Be warned, though; this is a big keyboard: its enormous footprint still requires some desk clearing before it can be nested comfortably. But feature-wise, the K100 RGB's got it all. Dedicated media controls and a USB pass-through, a metal volume wheel, RGB lighting. Speaking of RGB, there is an aggressive amount of RGB in this keyboard.
During our tests, we noted excellent key responses, a decent spread of keys for most hand sizes, a satisfying tactile click to each press, and wonderfully dimpled keys to help you rest your fingers when you're not actually pressing down. While this all seems quite obvious, it shows that the K100 RGB nails the basics, as well as including the fancy extras, and that's why it's top of the list. 
Read the full Corsair K100 RGB Optical review.
All things to all people, that's almost what the Mountain Everest Max gaming keyboard represents. And it's one of my favourite designs since it first landed on my desk. I don't always need the numpad on a full-size keyboard, but it certainly comes in handy sometimes during the work day. When I'm gaming though, all I want is a compact TKL board, to get my mouse and keyboard hands closer together and give me more desktop real estate to fling around my rodent.
That's what the Everest Max offers; the flexibility to have your TKL cake and eat your numpad. Use your numpad. Whatever. Basically the magnetically attaching numpad module is able to be attached to either side of the base mechanical TKL board and is completely hot-swappable. 
The admittedly very expensive $270 (£230) complete Everest Max kit also comes with a plush magnetic wrist rest and a media module with discrete controls and an LCD screen.
It's also a board for the keyboard enthusiast too, with a base that allows you to pull out switches at will and replace them as easily as just pushing them in. You can also go for the barebones board, picking your own switches and keycaps from the start to create a truly custom option.
My only reservations with the Everest Max are its high price and the initial immaturity I experienced with its config software. That's been ironed out now for the most part, and I'm still using my sample on a day-to-day basis as it totally suits how I game and work on my PC.
Read the full Mountain Everest Max review.
If even mecha-membrane keys don't suit you, and you demand a full membrane typing/gaming experience, the Razer Cynosa is the deck for you. I know there are people out there who prefer the soft embrace of a pure membrane switch, and that's fine—each to their own.
Source: pcgamer.com
Tags: #Corsair #Gaming keyboards #Hardware #hyperx #Keyboards #Logitech #Razer