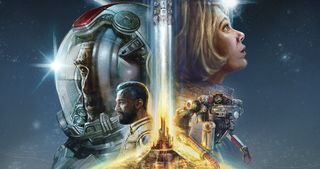 There was no physical E3 in Los Angeles this year, but E3 2021 went ahead anyway as an all-digital event.
After a few pre-E3 streams (which we're including as part of it), E3 proper started Saturday, June 12, with Ubisoft, Devolver, the Guerrilla Collective, and other shows. On Sunday we saw Xbox & Bethesda, Square Enix and the Future Games Show as well as our own PC Gaming Show. 
As each day of E3 heaved a new bucket of trailers and announcements at us, we caught as many as we could in this big list. For our complete coverage of the big announcements, check our news feed and our roundup of the biggest news out of E3 2021.
What is it? The return of an RTS classic
When's it out? October 28
What did we see at E3? A cinematic with Joan of Arc, and some gameplay reminiscent of the fondly remembered Age of Empires 2. There were war elephants, French knights, trebuchets, camel-mounted archers, a naval battle, and walls that will hopefully have those gates you could open and close by clicking on them.
Is it coming to PC? Yes, and it'll be available immediately on Xbox Game Pass for PC
What is it? A Left 4 Dead style cooperative shooter, but with a sci-fi theme (so aliens instead of zombies) and a lovely bright art style
When's it out? Fall 2021 (or Spring in Australia)
What did we see at E3? Just the announcement trailer embedded above, which is pretty generously packed with gameplay footage. Wes got to spend a bit of time with the creators (former Valve and Riot devs have teamed up for this one), which you can read about over here.
Is it coming to PC? Yes, both to Steam and Epic Games Store.
What is it? An action-adventure horror set in 14 century France with lots and lots of rats. The sequel to A Plague Tale: Innocence
When's it out? 2022
What did we see at E3? The trailer shows the return of Amicia and her brother Hugo who are a little older and wiser as they sneak their way through an oppressively grim world. Little is shown of gameplay but there are scenes of death, horror, and a literal sea of rats. Lovely.
Is it coming to PC? Yes and Xbox Game Pass at launch
What is it? The Soviet sci-fi FPS we're all waiting for
When's it out? TBA
What did we see at E3? A glorious minute of madness. Sinister robots, one with a head full of fruit. Frozen explosions. Cybernetic implants. Lightning powers. Levitation. A babushka with a soup ladle. It looks incredible.
Is it coming to PC? Steam
What is it? A stylish live-service action game from Platinum Games
When is it out? We don't know
What did we see at E3? More gameplay footage backed by soaring orchestrals, as expected. Lots of combat, which can be played solo or in groups of up to four, and some incongruous philosophizing over the top. Platinum Games has an excellent track record with this kind of thing. They have a lot to live up to but not a lot to prove.
Is it coming to PC? Yes! It'll be on Steam
What is it? Turtle Rock Studios return to the Left 4 Dead well with another four-player co-op zombie FPS
When's it out? October 12
What did we see at E3? Back 4 Blood's baddies are called the Ridden, and among the hordes being machine-gunned and grenaded in the latest trailer we saw some of the larger variants. There's a lumpy fellow with glowing insides, an eyeless leech-mouthed thing, and a kaiju-sized beast with terrible dental hygiene. We also saw there's going to be an open beta beginning August 5, and a PvP showcase on June 13.
Is it coming to PC? It's on Steam and Epic
What is it? A near-future Battlefield which increases match size to 128 players and introduces specialists with gadgets (kind of like Rainbow Six Siege operators, but they can carry any gun)
When's it out? October 22
What did we see at E3? The reveal preempted E3: You can watch the first trailer above, and read tons of Battlefield 2042 details here. There's no singleplayer and no battle royale mode in this one, but there are a couple mystery modes we'll learn about in the future. We'll see the first gameplay trailer during E3 proper on Sunday, June 13, and then we'll see more in July at EA Play Live.
Is it coming to PC? Yep, it'll release on Steam, Epic Games Store, Origin
What is it? A first-person survival-horror RPG set in the Chernobyl Exclusion Zone. Think Stalker, but smaller and weirder. 
When's it out? In Early Access now, full release coming on July 28 
What did we see at E3? Igor and the gang bust into a dilapidated power plant, although it's not clear why: Perhaps to find the strange green substance known as chernobylite, perhaps to locate the woman named Tatyana, or maybe for something else entirely. 
Is it coming to PC? You better Chernobylieve it, on Steam, GOG, and Epic.
What is it? A dice placement game like Dicey Dungeons or Tharsis
When's it out? 2022.
What did we see at E3? Damn, this looks stylish. You play a Sleeper, a worker on a massive, bustling space station full of bars, markets, docks, and seedy underbellies. Every cycle you're woken up to do various jobs, but you also get a chance to escape as well.
Is it coming to PC? Yep.
What is it? A 1970s open-world cop-op smuggling game from the Just Cause team
When's it out? TBA
What did we see at E3? The trailer doesn't give too much away but what we see is a cluttered hideout where we see a muddy car, junk everywhere, and what looks like some plans to steal a chest.
Is it coming to PC? Yep, including Game Pass
What is it? Another interactive horror movie from the folks who brought us previous Dark Pictures games like The Man of Medan
When's it out? October 22
What did we see at E3? A story trailer and release date. This Dark Picture is set in Iraq in 2003, and follows a group of American soldiers who tumble into a Sumerian temple underground. Trapped in the dark, they're hunted by bat creatures, though they do have guns. Will bullets be effective against the monsters? Ha ha, doubt it.
Is it coming to PC? Like the previous Dark Pictures games, yes.
What is it? Open-ended old school RPG
When's it out? Enters Early Access on August 5
What did we see at E3? Death Trash will let us create our own pixelated punk with skills like stealth, animalism, and puking. Then explore a post-apocalyptic world with cosmic horrors and a lot of meat, solving problems any way we choose. It's like the early Fallout games but with real-time combat and even more gore.
Is it coming to PC? It's vomited up a Steam page already
Source: pcgamer.com
Tags: #2D #Action #Battle Royale #E3 2021 #FPS #Horror #JRPG #MMO #Racing #Roguelike #RPG #RTS #Stealth #Strategy #Tower defense