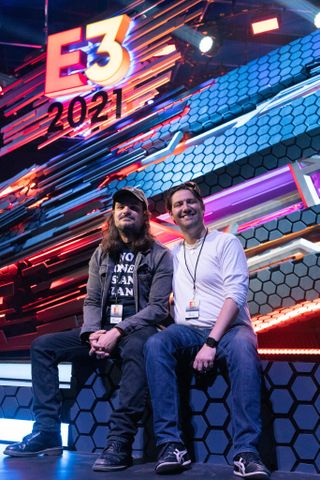 The dust has settled on E3 2021, the latest iteration of the world's biggest gaming show. Gamers worldwide enjoyed a four-day long livestream full of news, reveals, panels and interviews, all hosted by top games industry personalities. It was a herculean effort from everyone involved, but you may be wondering how the sausage gets made. The game reveals made all the headlines, but what about the creative people behind the scenes that made it happen? Read on for a peek behind the curtain to see how Paragon Creative Agency co-founders and E3 2021 Executive Producers Rob Talbert and James Shaughnessy pulled this year's blockbuster broadcast together.
"Last year, Covid changed everything for in-person events, but there's not one person in the industry who would disagree that E3 needed an update," said Talbert.
As well as adapting to an all-digital format, one of the key challenges of creating a show of this scale and scope is nurturing partnerships. For any broadcast to be a success, you need a diverse range of publishers, developers and media partners to create an authentic reflection of the industry.  
"This industry is bigger than any one person, game, company, or industry role, and it deserves a diverse and authentic ecosystem broad enough to honor video gaming's true place in culture," said Shaughnessy. "So, in a way, it's only natural to bring it all together."  
Over E3 weekend, gamers enjoyed a wide range of content, from AAA showcases to indie-focused events and panels about diversity and inclusion. It marked a new direction for E3 that offered a broader slice of the industry for fans while still delivering headline-making gaming news. 
"The show has been evolving towards this design; we've just been lucky (and gritty) enough to be around for the ride," said Shaughnessy. 
Every good broadcast needs a stage, and E3 2021's virtual set-piece wowed fans with its striking, vibrant design. This year's set was inspired by algorithmic architecture used by musical acts like Amon Tobin, Justice, Aphex Twin and Flying Lotus. Shaughnessy says that Paragon Creative used their experience working on major esports tournaments like the Overwatch League and Call of Duty League to develop the show's visual identity. "The E3 stage was intentionally modelled to be the same grand scale as top esports, musical and entertainment events," Talbert added. "We wanted to bring the same level of spectacle and grandeur E3 attendees get while at an in-person E3 at the LA convention center."
https://twitter.com/E3/status/1403516117729955840?s=20 
With the show's partners booked and the stage set up, the focus falls to the E3 2021 broadcast control room, where the sausage gets made. This is where crews of producers and talented livestream professionals ensure the whole event runs smoothly.  "Months and months of work finally reach a point of focused execution," said Shaughnessy. "Each and every contract, bit of content, particular technical issue, and more, it all has to be perfectly organised with triple redundancy and handled by singularly assigned professionals — like the bridge of the Enterprise!"
Shaughnessy says that it "takes an army" to pull off such a gargantuan broadcast as E3 2021, but the show was in safe hands thanks to the talent onboard the ship. "We're very fortunate to have the best crews in broadcast production to help us execute at the level the industry deserves," Talbert said. 
Talbert "brings his best Picard" while live directing the event to steer the ship towards success. "I've had the pleasure of working on some big shows, but E3 has a very special place in my heart since I've been attending and working E3 my whole career and have been a fan since I was a kid getting EGM magazines," Talbert said.
In the end, all of these complex moving parts came together to deliver a star-studded event that viewers will remember for months and years to come. What was your favourite moment from E3 2021? Let us know in the comments below.


Source: pcgamer.com