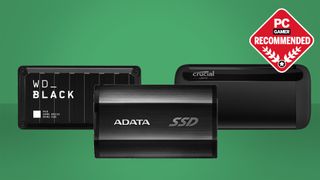 The best external SSD is almost a must for gamers of all appetites, especially in a world of ballooning game install sizes. A large external SSDs should come as a tempting possibility for anyone rocking one of the best gaming laptops, but it's also increasingly important for our console cousins too. PlayStation 5, or Xbox Series X/S support portable USB 3.2 drives for extended storage, and realistically you want an SSD based one for that. And there's also something to be said for simply a handy drive you can use between PCs and other devices to keep your data flowing easily and securely.
The best USB Type-C drives deliver performance well beyond internal PC SSDs from just a few generations ago. Some external SSDs now crank out as much as 2GB/s of raw bandwidth. Admittedly, that's a long way off the latest PCIe 4.0 M.2 drives for PCs, let alone the crazy-quick integrated storage in the new Microsoft Xbox Series X and Sony PlayStation 5.
What's more, the Xbox Series X/S-specific expansion SSD is not only expensive; it's also proprietary, so it can't be used with other devices. By contrast, USB Type-C is the new universal standard. As for Sony's Playstation 5, its M.2 SSD expansion slot has yet to be enabled, so USB-C is the way to go.
NVMe inside? Yep. TLC NAND memory? Affirmative. IP rating for increased robustness, including waterproofing? Check. All for an attractive price? Confirmed. The ADATA SE800 Ultra FAST 1TB really does have quite a bit going for it.
It starts with that M.2 NVMe drive, bridged to a USB interface. In this case, it's a 10Gbps USB 3.2 Gen 2 interface rather than a 20Gbps USB 3.2 Gen 2×2 connection. But this drive is still claimed to be good for 1GB/s data transfers in both directions. Lest you have forgotten, that's around twice as fast as any SATA-based drives, including internal SSDs connected natively via SATA.
That makes it unique among these SSDs, and, what's more, given the competitive pricing, you're getting that IP rating effectively for free. Performance-wise, in testing, the ADATA delivers in the headline 1GB/s spec for sequential transfers while notching up 4K random throughput that's comparable to the competition at 21MB/s for reads and 40MB/s for writes.
If you're looking for fast USB-powered external storage for games, this is currently as good as it gets. At least, it is in theory. The WD Black P50 Game Drive, tested here in 1TB format and available in 500GB and 2TB flavors, is a rare breed of USB Type-C external SSD. That's because it supports the very fastest USB 3.2 Gen 2×2 20Gbps interface, which is why it's capable of read and write speeds up to 2,000MB/s.
As for real-world performance, in terms of peak sequential, the WD Black P50 easily maxed out the 10Gbps connection of our test PC, registering just over 1GB/s in both directions. It's likely capable of the advertised 2GB/s with the right interface. Sustained performance is a little less impressive, with performance dropping to around 375MB/s after around 30GB of data transfer. Random access performance is reasonable rather than spectacular, with 22MB/s reads, and 40MB/s writes for the 4K QD1 metric.
If you want it all, you're going to have to pay for it. So, sometimes it makes sense to compromise. Enter the Crucial X8 2TB USB Type-C SSD. It's not the absolute fastest external SSD on Earth. But it is quick. It's extremely capacious. It's built into a really solid-feeling metal case. And it's attractively priced. In fact, right now, it's available on Amazon.com as we type for $249. That's over $150 less than WD's Black P50 Game Drive in 2TB trim.
And so it proves in our testing, with the Crucial X8 good for just under 1GB/s for sequential transfers in both directions. 4K random performance is decent, too, for this class of drive, with reads of 27MB/s and writes just over 40MB/s at QD1. Given the use of QLC NAND, one big question mark is sustained performance. However, while the Crucial X8 does drop down to 380MB/s with sustained traffic, in our testing, it maintained that level for many 10s GB, which puts it on a par with the more expensive WD drive.
Best gaming laptops | Best gaming keyboards | Best gaming mouse
Best gaming motherboards | Best graphics cards | Best gaming monitors
For the power user who wants it all—speed, capacity, and portability—and who is willing to pay a premium for it, Samsung's Portable SSD T5 is one of the slickest solutions out there. 
It's faster than any USB flash drive available, it has the capacity of a hard drive, and you can carry it inconspicuously in your pocket. This spunky little drive shares the same DNA as Samsung's 860 Evo SSD, just in a smaller package.
Speed doesn't come at the expense of storage space. While it's easy to bump into the storage ceiling of a 32GB, 64GB, or even a 128GB USB flash drive, you'll find there's much more breathing room when dealing with terabytes of space, which is what the T5 offers. Whereas the first generation T1 topped out at 1TB, Samsung doubled the maximum capacity of the T5 to 2TB, a result of upgrading from 32 to 48 stacked layers of V-NAND flash memory cells for a denser configuration.
There's a fine line between compelling and compromised when it comes to external USB Type-C SSDs. For our money, the Crucial X6 falls on just the wrong side of that divide.
Source: pcgamer.com
Tags: #buying guide #external hard drives #External SSD #Hard Drive #Hard Drives #Hardware #HDD #HDDs #SSD