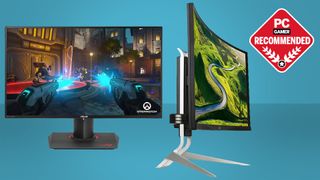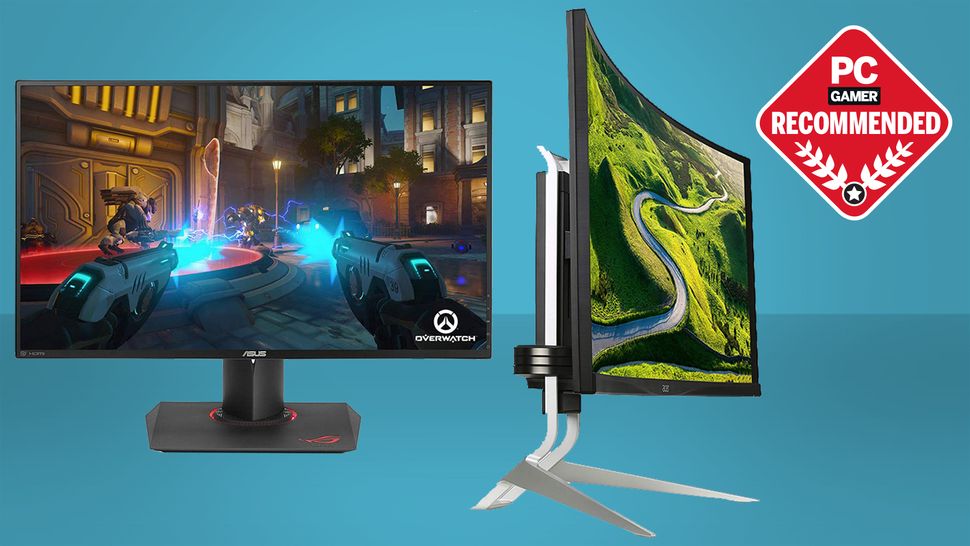 The best gaming monitor can completely change your PC gaming experience, and they're also in plentiful supply right now. That's not something you can say about the  graphics card market for sure. A great screen will also last years too, likely spanning across multiple gaming PCs. With high refresh rates now almost a given, and the ropey TN panels of the past consigned to history, today's gaming monitors are outstanding pieces of PC tech.
If it's an Nvidia GPU you're going for, make sure to bag a G-Sync or G-Sync compatible FreeSync monitor to get the most out of it. And if you're looking to upgrade to any of the best graphics cards—that can handle 1440p and beyond—why hold it back with a 1080p FHD monitor? 
With GPUs like the Nvidia RTX 3080 Ti and AMD's RX 6000-series pumping out great frames at any resolution, you needn't scrape by when gaming at 4K. These cards can take it. But if you want to save a buck and a bunch of time searching for stock, we still consider 1440p at 144Hz a reasonable target for a gaming monitor; these offer great performance at a reasonable price. We're also now seeing awesome 4K 144Hz monitors hitting the market, perfect if you really want to make your graphics card work.
And you'll want to prioritise frame rates, too. A mediocre monitor can act as a bottleneck for your pro-gaming exploits, so if you're after the best high refresh rate monitor, we've also got you covered in even more detail.
If you don't know your VA panels from your FreeSync ones, make sure you consult our handy jargon guide at the bottom of this article to explain common gaming monitor terms that'll help you make the best buying decision. 
4K gaming is a premium endeavor. You need a colossal amount of rendering power to hit decent frame rates at such a high resolution. But if you're rocking a top-shelf graphics card, like an RTX 3080, RTX 3080 Ti, or RTX 3090, then this dream can be a reality, at last.
The LG UltraGear is the first 4K Nano IPS 1ms gaming monitor that'll properly show off your superpowered GPU. This 4K 27-inch HDR monitor has a 144 Hz refresh rate and 1ms response time, which is kind of wild for a 4K monitor. What is most impressive, however, is the Nano IPS tech that offers a wider color gamut and stellar viewing angles.
The LG UltraGear 27GN950-B bags you a terrific panel with exquisite IPS image quality. Despite the lesser HDR capabilities, it also nets beautiful colors and contrast for your games too. G-Sync offers stable pictures and smoothness, and the speedy refresh rate and response times back this up too. The whole package, and truly the best gaming monitor going.
The G27Q proves that you don't need to spend a fortune for a decent IPS 1440p display. At $330, Gigabyte's 27-inches packs in many sought after features, but more importantly provides rich color and smooth gameplay. The 144Hz refresh rate doesn't hurt, either.
The Gigabyte G27Q is a bit of a plain Jane when compared to other more pricey options. It's a flat, 27-inch display and a design that wouldn't stand out in an office environment. But it's actually one of the best gaming monitors I've had the pleasure of using. Not only does it have a gorgeous, vibrant panel, but it's also HDR capable and packs plenty of useful features designed to enhance your gaming pleasure.
Read the full Gigabyte G27Q review.
The Pixio PX277 Prime is about as barebones as it comes in regards to gaming monitors. This 27-inch 1440p panel provides frames at a stable 165Hz and is also FreeSync certified for a tear-free gaming experience with compatible graphics cards. The screen itself is advertised as anti-glare and holds up in most brightly lit environments, and the thin bezel is always a plus in our book.
The biggest selling point of the PX277 Prime, though, is its low price point. A great entry-level option for those looking for a larger screen with a high refresh rate and don't want to be left totally broke. 
While the build quality isn't as robust as a higher-spec screen, the Pixio panel is perfect for the budget gamer who doesn't mind missing out on some of the bells and whistles of higher-end monitor but is keen for top performance.
Best computer speakers | Best gaming headset | Best gaming laptop | Best wireless gaming headset | Best PC controller | Best capture card
If your mantra for displays is 'go big or go home,' Acer hears you, and its Predator X38 is a massive 38-inch curved screen that looks stunning. It features a not-quite-4K QHD ultrawide panel with a 3840×1600 resolution. With an aspect ratio of 24:9, the IPS panel looks great, and the size means you have a lot of screen real estate for gaming. 
The display also features G-Sync technology with up to 175Hz variable refresh rates. That's a huge boost over lower refresh rate curved gaming monitors. It's a big, bold, and beautiful-looking display, and the zero-frame bezel-less approach is another welcome addition. If you're looking for something to turn heads, this is one of the best widescreen gaming monitors out there. 
It's taller than the 27-inch 16:9 displays we've already mentioned and nearly half again as wide, but the higher resolution means the dot pitch is slightly lower than the lesser panels. And for games that properly support ultrawide resolutions, the surround effect of the XR382CQK is incredibly immersive—sitting at your desk, the 38-inch panel will fill your field of view.
Source: pcgamer.com
Tags: #144Hz #1ms #240Hz #360hz #4K #Acer #ASUS #benq #curved #g-sync #gaming monitor #Hardware #monitors #portable monitor