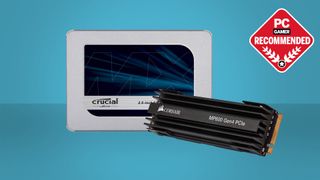 The best SSD for gaming will make your rig super responsive and give you enough speedy space to cope with the incessant demands of gaming's biggest storage hogs. We're looking at you, CoD: Modern Warfare. 
The performance difference between an SSD and HDD is nearly night and day, and the same is almost true of the difference between SATA drives and the best NVMe SSDs too. Suddenly everything is right there at your fingertips—no frustrating waits as your data chugs around your rig like a rusty steam train. If you're not planning to invest in one soon, you seriously need to rethink your priorities.
At one point, having a small SSD as a boot drive was a luxury. Now, at the advent of 4K and next-gen gaming, if you want to play your games at the highest speeds possible, investing in a quality SSD is your best bet. It should help you to defend against the incoming storage space onslaught.
With prices significantly dropping, too, you can readily consider an SSD drive for even secondary or backup storage.
Our pick of the best SSDs includes both 1TB and 500GB drives because smaller SSDs, though cheaper, lose performance. And, with games such as Red Dead Redemption 2, Destiny 2, and Modern Warfare taking up well over 150GB each, you need a lot of storage space these days to avoid a whole lot of inventory management.
Add link came out of nowhere to drive down the prices of every competing NVMe-based SSD and seems to have been the catalyst for bringing nigh-on price parity across the PCIe and SATA SSD ecosystem. Addlink who? So yeah, it may not be a recognized name in storage. However, given that the S70 is still using a completely recognizable Phison E12 controller and Toshiba's 3D TLC memory, there's not much that can go wrong.
With the sticker off, the Addlink drive is almost identical to the pricier Seagate Firecuda. It performs practically the same as the WD Black SN750, which subsequently had to drop its price to compete. At the 512GB level, the Addlink S70 is arguably the best SSD to build your system around, and the 1TB version has even better writes… and we've seen that as low as $120 before too.
We've no concerns around reliability either, despite the relatively unknown name, having used both the 512GB and 1TB variants regularly as part of our test rigs without fault. When SATA drives are costing the same, and Samsung SSDs cost more but don't deliver much extra performance, then the Addlink S70 is our pick of the bunch.
Western Digital's entry into the SSD arena was a long while coming, especially at the speedier end of the market, but the WD Black SN750 was worth the wait. It nails solid-state performance on par with the best consumer Samsung EVO SSDs and severely undercuts them on price.
The combination of an in-house memory controller and Toshiba memory (also essentially in-house after the acquisition of the SanDisk/Toshiba memory division) means what we've got here is a drive that can match Samsung in its build methodology too. And that all means WD can be very aggressive on how much it charges people for the privilege of having a speedy PCIe SSD in their gaming PC.
There is a more expensive version on offer with a heatsink attached to it. Still, so long as you don't bury your drive in an M.2 slot beneath your GPU, you should be golden, and the SN750 will maintain peak performance without burning out and without any extra SSD cooling.
The Samsung 970 EVO Plus offers a slight bump in write performance over the 970 EVO, all for the same price. There was a time when you could pick up the non-Plus version for slightly less, but those drives seem to have disappeared now. If you can find a straight 970 EVO for less, then go for it.
Both drives still use the same Samsung Phoenix controller, which means they can outperform the competition in real-world usage. If you want peak PCIe 3.0 performance, then the Samsung drives are hard to beat, but you have to pay for that little speed hike. Compared with the 512GB Addlink, the Samsung is a little quicker in real-world testing but costs another $20.
That's not a huge issue at this half-terabyte level, but when the 1TB version comes in at close to $170, it does make the higher capacity 970 EVO drives a bit more of a difficult recommendation. The 500GB 970 EVO is still a great drive, smartly specced, well-made, and with a more competitive price.
The Western Digital Black SN850 makes a fashionably late entrance to the PCIe 4.0 party. It's capable of hitting 7,000MB/s reads and 5,300MB/s writes in sequential transfers, which is well beyond the other drives' capabilities. That's because it uses the latest PCIe 4.0 interface, which has double the theoretical bandwidth limit of the other PCIe 3.0 drives.
Source: pcgamer.com
Tags: #Adata #Addlink #Crucial #Gigabyte #Hardware #intel #intel ssd #Mushkin #samsung #Silicon Power #SSD #SSDs #storage