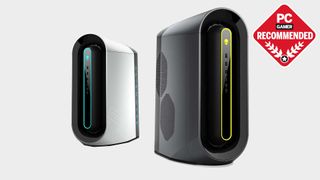 We know that hardware is hard to find, but the best gaming PC is your ticket to the best gaming gear around right now. Graphics cards are rare as donkey monocles right now, but system builders have a better shot at getting new GPUs than we do on our own. In these silicon-starved times then a pre-built gaming PC is your best chance of getting either the latest CPUs or the best graphics cards in your hands.
Although there have been cases of PCs shipping with no GPU, buying a full pre-built gaming PC is still a viable option to secure an Nvidia RTX 3080 or AMD Ryzen 9 5900X. Granted, you may have to wait for the privilege, but at lease you'll get a working gaming PC eventually.
DIY PC building is still super satisfying when the parts are freely available, but even we admit it's not for everyone. Besides, the best gaming PC takes any of the headaches out of picking up a whole new gaming rig. Getting a professional outfit to do the hard work for you is the simplest route into PC gaming; you can forgo the potential stress of part-matching, tech-sourcing, and faffing around putting it together.
All you need be concerned about in deciding on a pre-built rig, is finding a good balance of price and performance on the spec sheet. Ideally, your gaming PC will have one of the best graphics cards and the best CPUs for gaming, but there's something for everyone out there. Just make sure they offer good after-sale support—that's the mark of a great system builder. 24/7 tech support and generous warranties are often overlooked, but could save a headache down the road. 
Our favorite Aurora R10 config:
It took a while to come, but Alienware finally listened and created an AMD-focused line of its popular Aurora machines. The latest edition, the Aurora Ryzen Edition R10, delivers the latest AMD Zen 3, Ryzen 5000-series CPUs, and Nvidia's high-performance RTX 30-series graphics cards.
This is also one of the few places you might be able to find yourself an AMD Radeon RX 6800 XT, too—the red team GPU actually capable of going toe-to-toe with Nvidia's GeForce RTX 3080.
The latest AMD Ryzen processors are exemplary in terms of both performance and price, with the Ryzen 9 5900X, in particular, being a spectacular chip not just for productivity but for gaming too.
The different configurations start at $1,080, for which you get a six-core Ryzen 5 5600X alongside a Radeon RX 5300. We'd recommend upgrading the graphics to a GeForce GTX 1660 Super for less than $30 extra so that you can nail 1080p gaming in that sleek Alienware chassis.
Like the other Aurora cases, it's not necessarily the easiest to upgrade due to its bespoke design, but as a first machine, the R10 will not do you wrong. And given the general component drought right now, the fact that you can bag an all-AMD Alienware machine with just a month lead time is actually pretty great.
Our favorite Aurora R12 config:
Alienware is a household name for gaming desktops that share a, shall we say, unique aesthetic. While the extra-terrestrial styling may not appeal to everyone, their performance remains undeniable. The freshly minted Aurora R12 uses the same compact design as its R9 and R10 forebears and gives the new Intel 11th Gen processors. Nvidia RTX 30-series GPUs have a home in Alienware's Aurora chassis. 
There are six different configurations of Comet Lake CPU to choose from: the Core i5 11400F, Core i5 11600KF, Core i7 11700F, Core i7 11700KF, Core i9 10900F, and Core i9 11900KF. They're paired with Nvidia GPUs from the GTX 1650 Super up to the unfeasibly expensive RTX 3090. That gives you a range of Alienware gaming machines from reasonably affordable 1080p gaming right up to blistering 4K workload-smashing performance, and the Alienware AIO cooling system will help keep the cozy interior of the case at a reasonable temperature too.
Now, we're not entirely sold on the high-end Rocket Lake 11th Gen CPUs, but the fact that Alienware is now offering the Core i5 11600KF in its Intel range is a great shout. Both the new Intel Core i5 chips make great gaming CPUs, thanks to their Cypress Cove core architecture, and would probably be our pick for a new Aurora R12 build
We have played with the RTX 3090 version of the last-gen Aurora R10, sans liquid chilled GPU, and in gaming terms, you're not really going to get a lot higher frame rates than you would with the RTX 3080 build. That's not a huge surprise given our own testing of the RTX 3090 at launch; it only makes sense if you need that 24GB frame buffer for creative work.
Source: pcgamer.com
Tags: #Acer #alienware #ASUS #Corsair #cyberpowerpc #dell #Hardware #iBUYPOWER #MSI #Prebuilt PCs #zotac