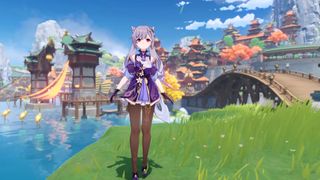 Want to find the best Genshin Impact Keqing build? As Yuheng of the Liyue Qixing, Keqing is basically a civil servant in charge of maintaining the illustrious port-city—the key difference being that civil servants in our world won't bash you with a lightning sword if you fill out the wrong form. 
As one of the game's original five-stars, Keqing is admired for her fast and agile moveset as well as her never-explained cat-girl hair. Her Stellar Restoration skill is also unique, letting her jump around the battlefield, naturally evading attacks while also infusing her sword with Electro damage.
If the leaks about Genshin Impact 2.1 are to be believed, we'll soon have an extremely powerful Electro character in Baal, but until then, Keqing is still one of the best Genshin Impact characters, and certainly one of the most stylish in terms of playstyle. 
Here's the best Genshin Impact Keqing build, along with info about her Ascension materials, and how to nab her for yourself.
The best Keqing builds are based around her crit rate and ability to consistently deal Electro damage with her elemental skill and weapon infusion.
Electro DPS
Weapon: Primordial Jade Cutter
The best weapon for Keqing is the Primordial Jade Cutter. This five-star sword increases HP by 20% but also grants an attack bonus based on 1.2% of the wielder's max health. It also offers a 9.6% increase in crit rate that adds to the 15% bonus Keqing already gets from her passive, Aristocratic Dignity. 
That said, the Primordial Jade Cutter is a five-star that you can only get from wishing. Another less-rare alternative is the four-star Black Sword, which increases normal and charged damage by 20%, offers healing based off 60% of the wielder's attack when you land a crit, and like the Jade Cutter, it still offers a valuable crit rate boost of 6%.
Artifact: Thundering Fury/Gladiator's Finale
As an Electro damage-dealer, Thundering Fury is a no-brainer, as it boosts Electro damage by 15% with a two-piece set. Gladiator's Finale also provides an attack bonus of 18% for two-pieces. Together, they give Keqing a healthy boost to both her elemental abilities and her regular attacks.
Reaction DPS
Weapon: Lion's Roar
Keqing is the only character in Genshin Impact who can infuse her weapon with Electro. The elemental skill that allows her to do this, Stellar Restoration, also has a short cooldown, meaning that with the right support—such as Xingqui—she can be used to cause consistent elemental reactions.
If this is a playstyle you enjoy and want to build towards, Lion's Roar is a great four-star sword that offers 20% increased damage against enemies affected by Pyro or Electro. This allows you to make the most of Keqing's ability to re-apply Electro with her fast infused attacks.
Source: pcgamer.com
Tags: #Genshin Impact #guide #miHoYo #MMO