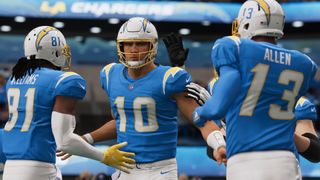 It's Madden season once more, and if you couldn't smell the freshly cut gridiron or hear the freshly cut players calling their agents, one way to be sure it's time for football is the never-ending Madden ratings debate. In Madden 22, player and team ratings are once more the subject of much discussion around the virtual water cooler. Which rookies have the best ratings? Which wide receiver deserves to be the fastest? Can anyone top the Chiefs this year?
We've been playing Madden 22 for a few weeks now and are bringing you the top-rated rookies, veterans, and teams so you can arm yourself with the knowledge of who's overrated, who's underrated, and more–in your mind, anyway. Here's all you need to know about the best-rated players and teams in Madden NFL 22.
Kyle Pitts: Atlanta Falcons TE, 81 OVR
Having traded longtime star Julio Jones to Tennessee, the Falcons will likely lean on Pitts early and often, and so too will anyone using the team in Madden. Paired with the still-elite Matt Ryan, he poses a matchup nightmare for defenders, as he's too fast (91) for many linebackers but too strong (71) for many defensive backs. 
Trevor Lawrence: Jacksonville Jaguars QB, 78 OVR
Rookies hovering around 80 are rare, but so too is Lawrence's natural skillset, complete with his 84 speed and 80 awareness, making him not just one of the fastest QBs in the game right away, but also one of the smartest. Lawrence's team is low on its own hierarchy, but the rookie's abilities may prove to be too much for Madden players to ignore in the team selection screen.
Jaylen Waddle: Miami Dolphins WR, 76 OVR
This Dolphins burner offers a ridiculous 97 speed, 95 acceleration, and 97 agility. All of this is to say he will likely grow into one of the game's elite wideouts if you're playing in a multi-year Franchise and will likely haunt the dreams of anyone on your schedule in a PvP league. Waddle will take the top off the defense from the first snap in Madden 22.
Patrick Surtain: Denver Broncos CB, 76 OVR
The Broncos boast top-to-bottom strength on defense, which rookie safety Patrick Surtain helps grow even stronger. His 91 speed, 75 awareness, and 90 acceleration mean he can keep up with any targets coming across his zone, or he can take on some high-end receivers single-handedly. 
Najee Harris: Pittsburgh Steelers RB, 76 OVR
Harris landed in Pittsburgh where he will immediately help a perennial contender return to glory. He's not a speedster, as evidenced by his 88 speed, but he makes up for it as a powerback, leveling would-be tacklers with 81 strength and 90 acceleration, giving him a freight train-like tackle-breaking ability. 
Patrick Mahomes: Kansas City Chiefs QB, 99 OVR
Mahomes is maybe the most athletically gifted QB the league has ever seen and continues to dominate the league every week. With near perfect stats such as 97 throw power and accuracy ratings at 93 or higher at any distance on the field, Mahomes is a Madden cheat code.
Jalen Ramsey: Los Angeles Rams CB, 99 OVR
Source: pcgamer.com
Tags: #EA #guide #Madden NFL 22 #Sports