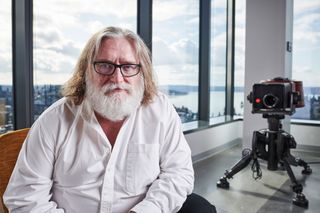 Steam has many scoreboards. The "Top Sellers" section ranks releases by total recent revenue (which explains why the $999 Valve Index regularly tops Steam's sales chart). Steam Stats tabulates who's playing what. And elsewhere on Steam, a crystal ball contains a list of the most-wishlisted games. 
It's a revealing, ever-changing picture into what PC gamers are excited about, or intend to buy. And though the stuff sitting at the top isn't too surprising, this window into the future reveals at least partly the collective purchasing intentions of PC gamers.
"Steam wishlists are one of the most important pre-release metrics for PC game," says Simon Carless, founder of GameDiscoverCo, an agency that researches game discovery. "What makes them important is that Steam account holders are willing to click on the 'I want to be reminded about this game' option. Obviously, a small percentage of those might be from people who are less interested, but once you start getting up into the hundreds of thousands or low millions, it is fairly indicative of interest."
Here's what I see when I look into this crystal ball.
Cyberpunk 2077, the previous king of Mt. Wishlist through 2020, was supplanted by Dying Light 2 Stay Human just days after it released on December 9.
Dying Light 2, the zombie parkour RPG, has sat atop the throne ever since. And after many delays, it will release on almost the same date, December 7, one year later. 
With a hype train enthusiastically behind it, will Dying Light 2's launch go smoothly?
These two big games do have plenty in common: they're both technically ambitious, first-person singleplayer RPGs with a focus on action, mature storytelling, high-end presentation, and responsive systems. They're both from European studios. Two of the big promises made on Dying Light 2's Steam page would be at home in Cyberpunk 2077's marketing copy:
It'll be interesting to compare the initial receptions of these games. The extended, still-evolving troubles of Cyberpunk 2077 create an atmosphere where Dying Light 2 could be lumped in as déjà vu, should it launch with major technical issues.
Maybe most notably, with about four months before release, no one in the press has played the game. We will hear a bunch more about it at Gamescom next week.
About 30 of the top 100 wishlisted games, by my categorization, are from big, established studios. This includes stuff like Icarus (from DayZ creator Dean Hall, who started his own studio in New Zealand), Atomic Heart, Age of Empires IV, and even Farming Simulator 22, which can be loosely considered an established franchise at this point. 
The remaining games are from smaller teams. Timberborn, a "lumberpunk" city-building game all about beavers. N1RV Ann-A, the cyberpunk bartending anime game. That H.R. Giger-ass first-person horror game, Scorn. And a smattering of Noun Simulators. At #5 and #6, Party Animals and Hollow Knight: Silksong are the highest smaller-studio games on the list.
It's not news that Steam is overflowing with independent games, but it is worth remembering that they didn't always get to occupy this much shelf space with so-called blockbusters. 
One of the things we've been keeping an eye on is the tremendous hype around New World (#2 on this list), Amazon's MMO that should be the company's most successful launch when it finally emerges.
One of the things that seems to be motivating the enthusiasm for New World is the particular mixture of fatigue and hopefulness embedded in the World of Warcraft community. WoW remains a healthy enterprise, but both the mainline game and Classic are in a state of friction with their communities recently.
Source: pcgamer.com