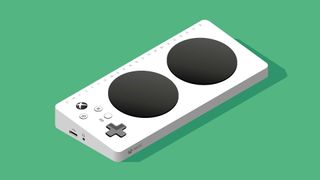 I've been speaking to Bryce Johnson, Inclusive Lead at Microsoft Devices and co-inventor of the Xbox Adaptive Controller (XAC), about the process behind and reception of the accessible gaming device. And although he's happy about where the project ended up and where the accessibility industry is going as a whole, he's a little concerned about where things might go from here.
The XAC is Microsoft's answer to making games more accessible for players with disabilities. That description makes it sound so simple, but making an accessible controller is definitely not straightforward, even with backing from a company whose net worth is about $1 trillion.
Johnson explains that it was first important to recognise the limitations of current controller configurations. Without full fluid range of motion in both the thumb and index fingers, or the ability to hold the controller in a certain way, standard controllers are rendered useless. 
For people like Brian Zadorozny, a quadrapalegic gamer who uses the XAC on a daily basis, using a standard controller is basically impossible. Now lacking the finger dexterity he had in his youth, the initial alternative for him was mobile gaming. "Mobile gaming scratched my videogame itch, but it's no substitute for Kingdom Hearts."
Something much more modular than what was on the market was necessary, to give those with disabilities the chance to play the games they loved, without having to strap together some totally unfeasible makeshift contraption out of dental tools in order to press those just-out-of-reach buttons. It sounds silly, but this is the kind of thing disabled gamers have had to resort to.
"We really try to emphasise to people to think about where they have movement, and what feels good moving," says Johnson. "And that can be pretty hard for some folks, because they don't really think about it."
Before the XAC came out, the 'co-pilot' feature made it possible to plug in two controllers into an Xbox or a PC, and have them register as a single device. Johnson explains it was this feature that allowed them to "create a form that was this unique" for the XAC. In combination, the two technologies gave rise to a super modular gaming setup that can adapt to an individual's specific needs, and fill in the gaps in their movement.
"That's the beauty of the Accessible Controller," Zadorozny praises, "You just plug and play." With his XAC and external buttons attached securely to his velcro-laden lap-tray, "setting it up was easy; figuring out my optimal layout was easy." 
He now only has minor rearrangements to make when switching from his favoured Stardew Valley to another game.
And despite some difficulties—playing fast paced games like Counter-Strike and StarCraft are a bit of a stretch—he's extremely happy with how the XAC project came through, though he does have some suggestions for improvements.
"You could make the device smaller, and then have the option for some of the bigger buttons," suggests Zadorozny. For travelling around, "it'd be a lot easier to have a baby version."
So while the design's modularity does help, there's never one single fix-all solution.
One factor with the potential to make up for it's non-portability, is the XAC's sub-$100 price tag. Keeping the cost down was always at the forefront for the design team.
"We did a lot of homework around other assistive technologies," says Johnson, "and were upset by how much they could be." The plan was to get it under $100 from the beginning, and the team "made deliberate choices to make sure we kept it that way."
No doubt this limitation presented some difficulties, but the mission was clear and undoubtedly necessary; it was just a matter of getting the right people on board. As Johnson notes, "The who we brought to the leadership team, made why go away," he laughs, "and then it all became about what."
Source: pcgamer.com
Tags: #Accessibility #Accessibility Week #Hardware #Xbox Adaptive Controller