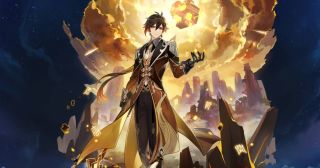 Looking for the best Genshin Impact build? miHoYo's free-to-play action-RPG is about using your party to face down fearsome foes of all shapes and sizes, unleashing elemental skills and bursts to electrify, burn, freeze, and blast them into oblivion.
Any of the Genshin Impact characters can be powerful with the right weapons, artifacts, and constellations, and that's the real fun of building characters. It's how you end up with players creating DPS Barbara builds and using them to annihilate bosses, but it's also nice that in a game about collecting your favorite characters, every one of them can become a strong party member. 
There are a lot of variables in creating a great Genshin Impact build: you have weapons, artifacts, constellations, passive talents, as well as both talent and character ascension, and all of these play an important part in making a character strong. But that doesn't mean you need to have every five-star weapon or be a high-spend players in order to build a decent party.
In this Genshin Impact build guide, I'll list some examples of my favourite easy builds, and explain the basics of making your own.
Here are a few of our favorite Genshin Impact builds for some of the most powerful characters, using artifacts and weapons that aren't too hard to get your hands on:
Ganyu – Cryo DPS
The Favonius Warbow is a great weapon for Ganyu when combined with Blizzard Strayer's four-piece effect of increasing crit rate by up to 40% when attacking enemies that are frozen or affected with Cryo. This increased crit rate takes advantage of Ganyu's high base crit damage, but also the warbow's effect of potentially generating elemental particles whenever you land a crit.
Along with the warbow's increase to energy recharge, this lets Ganyu use her powerful burst more often, while Blizzard Strayer's two-piece effect increases Cryo damage by 15%, making it hit that little bit harder.
Venti – Burst DPS
Venti is such a fun character to use, since his playstyle is pretty simple: activate his incredible burst, then throw as many other elements into it as you can to cause Swirl reactions and create a nightmare DPS hurricane. The Stringless is a good four-star bow for Venti since it increases elemental skill and burst damage by 24%, and boosts elemental mastery for stronger reactions. 
Noblesse Oblige also increases elemental burst damage by a further 20% for two-pieces, and four-pieces increases your party's attack by 20% for 12 seconds when you use a burst. This means that when your other characters follow up on Venti's burst and throw their own elements into the mix, it'll be even more powerful.
Diluc – Pyro DPS
Diluc is one of Genshin Impact's most straightforward DPS characters, and this build helps you get some value out of him without having to get five-star weapons or artifacts. The Sacrificial Greatsword takes advantage of Diluc's unique three-attack elemental skill, as every time you damage an opponent with it, there's a 40% chance to end the cooldown. It can do this once every 30 seconds. 
Crimson Witch of Flames is another pretty straightforward pick, as two-pieces increase Pyro damage by 15%, and four-pieces boosts Pyro elemental reactions. Overloaded and Burning damage are increased by 40%, while Vaporize and Melt get a 15% bonus. Using an elemental skill also doubles that 15% Pyro damage bonus for the two-pieces, meaning Diluc can dish out some decent numbers.
Bennett – Support
Bennett is one of Genshin Impact's best support characters, due to the fact that his burst provides AoE healing and a hefty attack boost. Similar to the warbow on Ganyu, the Favonius Sword is a great way of recharging energy, as it has a 60% chance to produce elemental particles whenever you land a crit. This helps you keep Bennett topped off so you can use his powerful burst as much as possible.
Source: pcgamer.com
Tags: #Genshin Impact #guide #miHoYo #RPG