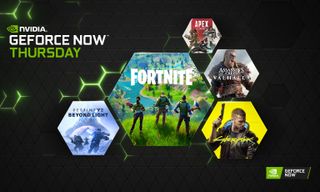 Cloud gaming is one of the most exciting gaming innovations in a while. Sure, new hardware is fun, but there hasn't been too much of a shift in how we access and play our games in a few years—until now. 
As internet access has gotten faster and faster and content streaming has become the primary way entertainment is delivered, it was only a matter of time before the ability to stream video games entered the mainstream as well. 
NVIDIA has long been one of the biggest names in the world of PC gaming and its vision for the future of game streaming is called GeForce NOW. 
Your Games. Your Devices. 
Probably the most important feature of GeForce NOW is the ability to play your library of games on the service. Any game a player has purchased previously that is compatible with GeForce NOW will be available to play with no additional purchase required. And the same goes for new games as well, purchase it once and it's available to stream instantly. And because they're PC games, GeForce NOW members play with and against other PC gamers.
Players can sync games they already own from digital stores they have purchased games from—including Steam, Ubisoft Connect, Epic Games Store, and GOG. 
In addition to being able to play the games they already own, gamers can also play on almost any device they own. GeForce NOW is accessible on PC, Mac, Chromebook, Android mobile, Android TV, iPhone, and iPad. To access GeForce NOW either download the app or visit play.geforcenow.com from any compatible browser. 
There are more than 900 PC games available to stream, with many of the most popular ones like Cyberpunk 2077, Valheim, Rust, Tom Clancy's Rainbow Six Siege, and ARK: Survival Evolved. The service also includes over 80 of the top free-to-play games, like Fortnite, Dota 2, Apex Legends, Rocket League, and Counter-Strike: Global Offensive.
Memberships for All 
The best part: players can sign up for GeForce NOW for free and have immediate access to 80 free-to-play games already available, with more being added regularly.
As you'd expect, GeForce NOW uses NVIDIA's own graphics processing hardware to stream your games, which means they can take advantage of the top-of-the-line tech. Those who opt to go for the Priority membership for $10 a month get all the same features of the free version but also get access to an advanced graphics experience with RTX. That means games like Cyberpunk 2077, Watch Dogs Legion, Control, and more (all still available to play with the free membership) will all have real-time ray tracing and/or DLSS.
Other benefits of the Priority membership include priority access to servers and longer gameplay sessions.
Unique Features
For recording the best scenes of ultimate mayhem and carnage, players can use NVIDIA Highlights. Supported games like Fortnite and Apex Legends will automatically capture these moments so players don't have to interrupt their progress to make sure they get the footage. And from now through June 23, GeForce NOW members can win sweet prizes by submitting their best NVIDIA Highlights from Apex Legends in the Legends of GeForce NOW event.
NVIDIA Freestyle lets players apply filters to customize the look of their games in real-time. For example, you can add a retro war-themed filter to FPS games, or enhance color and contrast to make a game look more photorealistic. This is also a great option for colorblind players as it allows them to adjust the contrast and colors to make it easy to see. 
Source: pcgamer.com