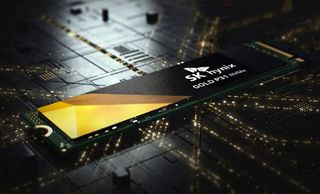 While it may not be the flashiest part of top-notch gaming rigs, storage is nevertheless an important part of any quality gaming PC. A powerful SSD not only provides the user with tons of space to install games, but also ensures that loading times in-game will be quick and painless to deal with. 
There are tons of great SSDs out there, but in our minds, one of the best is the SK hynix P31. Here's a look at what makes the SSD so effective, as well as everything you need to know about its price and availability.
Ultimately, the reason why this SSD is so much more performant than other options is because of its 128-layer NAND flash architecture, which gives it a sizable edge over many other SSDs on the market.
This is reflected clearly in the SSD's performance numbers. With read speeds of 3,500 MB/s and write speeds of 3,200 MB/s, this SSD is more than capable of helping you blaze through in-game menus and loading screens. It's also excellent for people who need to move a lot of files back and forth from one drive to another during productivity work as well.
In terms of storage capacity, the SSD can either be purchased with 500GB or 1TB of space. This is a great amount of storage for most gamers, though we specifically recommend the 1TB version if you plan to play a lot of different games on your rig.
Right now, you can get both the 500GB and 1TB version of the SK hynix Gold P31 SSD on Amazon for $75 and $135, respectively. These are excellent prices, making this SSD an excellent value purchase; not only is it powerful, but it's also quite affordable as well, which is always a bonus. The 500GB version of the SSD is even on sale for 15% off from now until June 22 thanks to a coupon you can use, so there's never been a better time to get one than right now! Make sure to check the retail page for more information about how to redeem the coupon. 
Keep in mind that even if you yourself aren't a gamer, this SSD makes a great gift for PC users that do like to game a lot. Want to reward a recent college graduate that plans to use their gaming PC every day or give a dad that likes to game while not working or taking care of the kids a practical Father's Day present? The SK hynix Gold P31 is perfect for the "dads and grads" season. 
Overall, whether you're a hardcore PC gamer yourself or you know someone that is, this SSD won't fail to impress.
Source: pcgamer.com