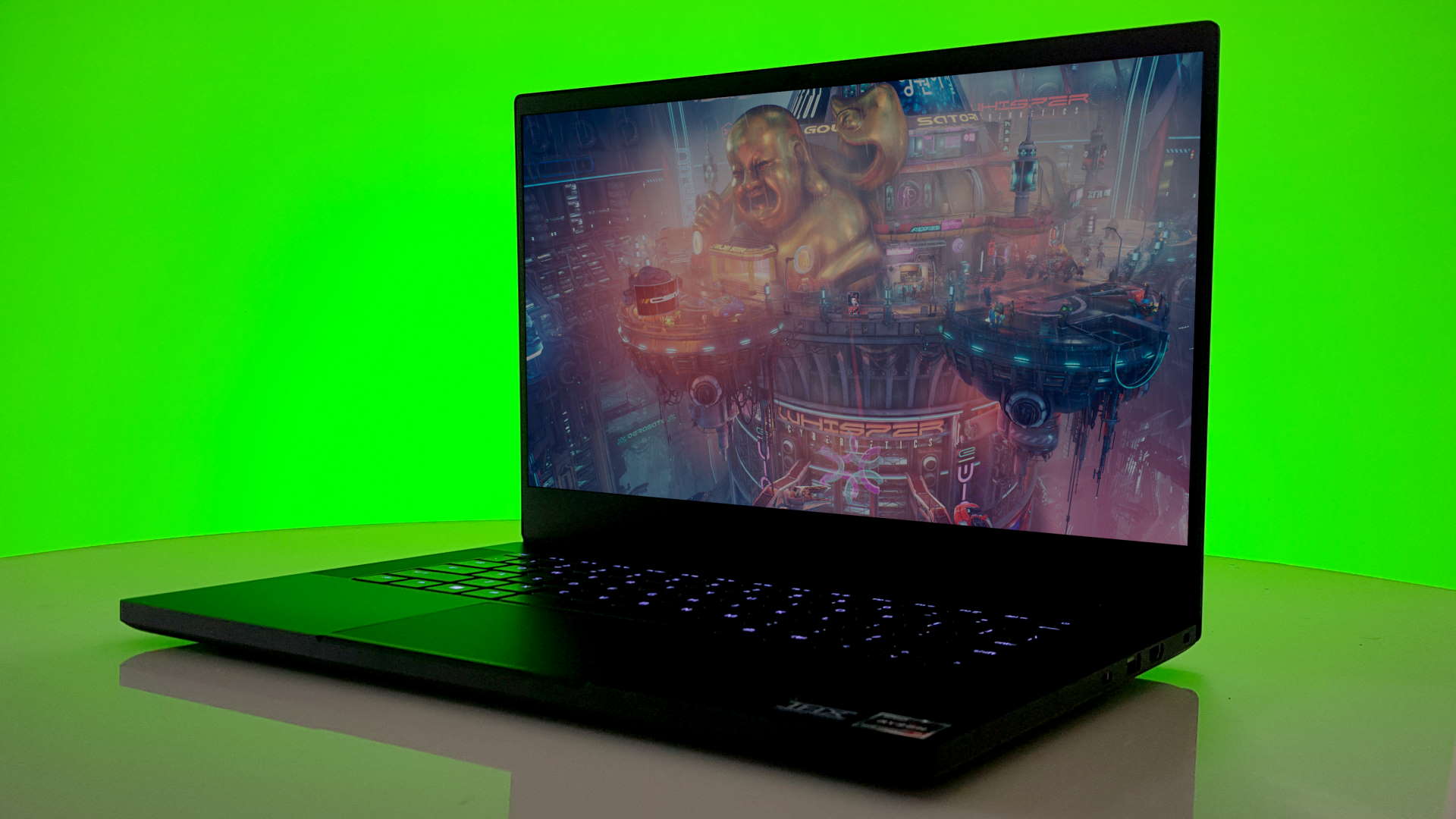 There's no getting away from it, the Razer Blade 14 is one of the best gaming laptops around. But that's not to say it's perfect, because there are some definite caveats that have to be dropped in when talking about where it comes from, why it exists, and what that means for gaming performance.
This is the first AMD Ryzen-based gaming laptop from Razer, and its first 14-inch machine since back when Windows 8.1 was 'a thing'. Razer has been looking enviously at Asus' rightly lauded ROG Zephyrus G14 and, with the introduction of a Ryzen 9 5900HX CPU, it obviously felt the time was right to make its own mark at this smaller scale.
That's not to say the 15-inch Razer Blade laptops are portly—they're as close as you're going to get to a matte black MacBook gaming PC—but the svelte Blade 14 is only a tiny step up from the size of the gorgeous Razer Blade Stealth 13 range of Razer ultrabooks, and a decent chunk smaller than the large Blade 15 machines.
It is only a tiny bit thinner than the larger Razer laptops, but is a full 15mm shorter and more than 35mm narrower across its solid anodised aluminium frame. That makes it feel genuinely smaller than the Blade 15.
And I love the form factor. 
Honestly, this is the gaming laptop spec for me, though I'm going to say something you might not want to hear: While you absolutely can fit this slimline notebook with an RTX 3080 GPU, you really shouldn't. I've picked up the Razer Blade 14 with Nvidia's RTX 3060 graphics silicon at its heart and, with a 100W TDP, and a 1080p 144Hz screen attached to it, I'm convinced this is the ideal version of what is effectively a gaming ultrabook.
Whatever you want to say about the chassis and the cooling it affords the internal components, performance in 2021 is inextricably linked to thermals. That means the restrictive confines of the Blade 14's design will inevitably deliver lower gaming performance from a GPU as hungry as an RTX 3080 than if it was used in the beefier 15-inch chassis.
Drop the RTX 3080 into a hulking brute of a Gigabyte Aorus notebook and you'll really see that GPU fly. Though you may not like the aesthetic, or even the noise it might generate, you'll have to appreciate the frame rates.
But with an RTX 3060 inside it, the cooling doesn't limit its frame rates, certainly not in relation to any other gaming laptop we've seen sporting the same GPU. Of course you'll buy the Razer Blade 14 because of its shape, style, and size but, if you've spent out on an RTX 3080 version, it's going to be hard not to feel a sting from knowing you'll be getting noticeably slower gaming performance than your 15-inch laptop peers.
The graphics chip is always going to be something we spend a lot of time talking about with a gaming laptop, but it's the AMD Ryzen 9 5900HX that's brought us here in the first place. Despite the name, this is more like the Ryzen 7 5800X of the desktop AMD 5000-series CPUs. It comes with eight cores and 16 threads of processing power and a nominal max clock speed of up to 4.6GHz. 
While it's not quite in the same league as its 12-core, 24-thread desktop namesake, the 5900HX is still one of the most powerful mobile processors around.
In the 14-inch frame of the new Razer Blade we were getting a strong 3.5GHz clock speed under all-core load, and with single-core loads we had our Zen 3 silicon hitting a thoroughly respectable 4.4GHz.
System performance
That means the Ryzen 9 5900HX can stand toe-to-toe with the latest octa-core processors from Intel's Tiger Lake H-series. Though we have seen some higher Cinebench scores from 11800H (shown here by the new Acer Triton 500 SE) and 11900H chips, those are always in far larger machines. 
The sort of processing power the AMD CPU can offer, with all its Zen 3 cores aimed at a productivity problem, transforms this 14-inch machine into something of a mobile workstation. Which is great to see in a svelte Razer laptop you can throw into a messenger bag.
Source: pcgamer.com