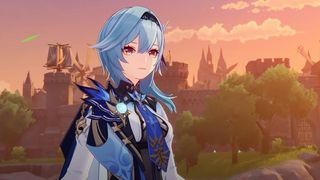 Looking for the best Genshin Impact Eula build? This claymore-wielding scout of the Knights of Favonius packs a serious punch, and has the highest base attack of any claymore user in Genshin. Her abilities and passive skills boost this even further, so that with the right weapons and artifacts, she can reach some pretty ridiculous numbers.
Eula is undoubtedly one of the best Genshin Impact characters from a DPS perspective, and even with new powerful characters like Ayaka, with Yoimiya and Sayu not far behind, she still holds her own. Unfortunately you can't get your hands on Eula right now, as she still hasn't been added to the Wanderlust Invocation character pool.
But if you already have Eula, or want to plan well in advance for when she's featured again, this Genshin Impact Eula build guide has everything you need to know to ascend her and fulfil her terrifying potential.
Eula is a DPS fighter whose biggest strength is her high base attack and stackable Elemental powers. These Genshin Impact Eula builds will help you get the most out of her high physical damage or Cryo potential.
Physical DPS
The five-star claymore, Skyward Pride, increases the wielder's energy recharge rate by 8% and boosts all damage output up to 8%. Using Elemental Bursts, normal, or charged attacks, may create a Vacuum Blade that deals 80% of Eula's attack as damage along its path. 
As you might imagine, this sword synergises extremely well with Eula, who has the highest base attack of any claymore user, and who has a very powerful Elemental Burst.
Pale Flame is the perfect artifact set for a physical DPS Eula. A two-piece set boosts her already impressive physical damage by 25%. A four-piece set means that when her elemental skill hits an opponent, her attack is increased by 9% for 7 seconds, and can stack up to two times. 
When two stacks are hit, physical damage increases by a further 25%. This can get pretty ridiculous when you consider that Eula's elemental skill can also lower the physical resistance of enemies when it consumes Grimhearts.
Cryo DPS
This four-star claymore's secondary increases energy recharge by 6.7%. It also has a 40% chance of cancelling an Elemental Skill's cooldown after it is used, significantly increasing the amount of Cryo damage Eula can deal.
Eula also gains a stack of Grimheart when she uses her Elemental Skill which can be used to increase its damage and lower enemy defence when uses its held form. An instantaneous cooldown means that she can stack Grimheart quicker, or consume it immediately for that damage bonus.
Blizzard Strayer is the best fit for Eula's Cryo build. The two-piece bonus increases Cryo damage by 15%, and the four-piece bonus boosts critical rate by 20% if the enemy is afflicted with Cryo. If the enemy is frozen, the critical rate increases by an additional 20%. You can find Blizzard Strayer in the Peak of Vindagnyr Domain on Dragonspine's peak.
There currently isn't a banner with boosted rates for Eula. 
Sadly, Eula also isn't part of the Wanderlust Invocation standard wish banner, meaning you can't even wish for her there. If you really want her, I'd advise saving up for wishes for next time she is featured on a banner with boosted rates.
Source: pcgamer.com
Tags: #Genshin Impact #guide #miHoYo #RPG