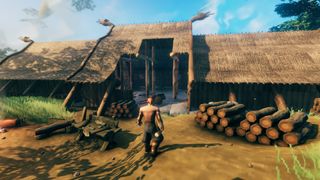 Wondering what's coming in the big Valheim Hearth and Home update? Valheim was a huge hit early this year after its early access launch in February and has since sold over six million copies. The five-person development team, Iron Gate Studios, was certainly taken by surprise, but the viking crafting RPG has laid out big plans to fit its big viking fanbase. Iron Gate is already looking ahead to a Mistlands update following the big Hearth & Home additions for this autumn.
Updates planned for later down the road such as the 'Cult of the Wolf' and 'Ships and the Sea', certainly have intriguing names too. But the first major update on the list—Hearth and Home—is what most players are talking about, not least of all because the building aspect of Valheim has become so popular. With various players showing off their opulent bases, it's hard not to get bitten by the bug and test your own architectural prowess.
Details of the upcoming Valheim update are being kept under wraps, but there are a few tidbits of information out there, such as various teased images. So here's everything we know about the Valheim Hearth and Home update.
Iron Gate has pushed back the Hearth and Home update a bit, saying that it will now be expected sometime in the third quarter of 2021. 
"We weren't prepared for such a large influx of players, and this highlighted a thousand new problems and bugs that needed to be fixed urgently," Iron Gate said in June. "Our priority has been to make the current experience as stable as possible and this has meant new content has taken a backseat. To put it clearly; we haven't been able to focus all of our resources on Hearth & Home until May."
For the same reason, Iron Gate is revising its development roadmap as well. Valheim won't be getting four major updates this year. "The new roadmap will be much smaller, but we've made the decision to focus on the big Mistlands update directly after we're done with Hearth & Home," the studio says.
One new feature being added in the Hearth and Home update is the ability to show off your riches to other players. You can heap your gold in piles, create coin stacks, and even fill the soon-to-be-added treasure chest with your ill gotten gains. As you'll want to make sure no one pilfers your plunder, an iron grate is also being added, so you can create your own treasure hoard and keep it under lock and key.
If you've played more than a few minutes of Valheim, you'll have at least built yourself a rudimentary shelter. And for those of us that focus on base building rather than actual progression, the Hearth and Home update is something worth marking in your calendars.
As the name suggests, it will focus on base building and Törnqvist has confirmed that additional building pieces will be added, as well as "stuff to do in and around the house." This is fantastic news if you've spent more time than you'd like to admit striving to build the perfect base. 
While players are already finding some seriously impressive ways of building with what's already present in Valheim, the addition of extra building pieces is sure to open the flood gates to yet more weird and wonderful player creations.
In the studio's June update, it revealed darkwood roof pieces and window hatches.
Currently, there's no way to starve in Valheim as your health will never drop below the base value of 25 without damage from an external source. You need to step outside your base at some point, though. When you do, make sure you're stocked up on food, especially when you're venturing into some of the tougher biomes. And while there are plenty of meals and meads currently available, the Hearth and Home update will also take a look at the food in Valheim and make additions and improvements to the system.
"We've also implemented a new food system that places more importance between boosting health and stamina, making food choices more interesting based on your playstyle," Iron Gate explained in June. "To this end, we've also made some changes to how stamina/health affects your poise in combat. If you want to play a tanky, defensive viking you should now stock up on health, since this will boost your ability to deflect incoming hits and mitigate damage."
Iron Gate have mentioned new cooking station extensions such as a spice rack, butcher table, and pots & pans. The studio says there are also ten new recipes, including Eyescream, Shocklate smoothie, and various wolf meats. We'll also be able to plant and harvest onions!
Iron Gate Studios is keeping most details of the update close to its chest, but that hasn't stopped the developers from teasing us with a few screenshots—along with, well, absolutely no explanation for what they are!
Source: pcgamer.com
Tags: #Coffee Stain Publishing #guide #Iron Gate Studios #Survival #Valheim