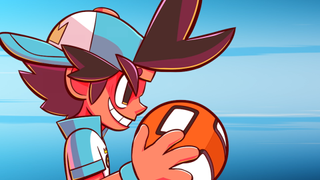 Humble Bundle's publishing arm, Humble Games, has partnered with two indie developers to publish two brand new titles, revealed at this year's PC Gaming Show at E3 2021. Next Space Rebels from Studio Floris Kaayk and Dodgeball Academia from Pocket Trap are both slated to release on multiple platforms later this year.
Next Space Rebels puts you in the shoes of an amateur rocket hobbyist with a dream of growing into a full-fledged space activist. You'll design, build, and launch rockets, learning through the process of creation and failure to do it all over again–because after all, the sky's the limit.
Even though it might be literal rocket science, Next Space Rebels makes its design process accessible through a "notepad-style" creative toolset and interwoven narrative. These tools are powerful, but also easy to use for any player regardless of their experience to reach their full creative potential. 
Soar among the stars and enjoy fully live-action cutscenes featuring an extensive cast of internet characters you'll meet along the way. Experience the joy of starting from the bottom and getting there through creating your own "StarTube" channel, where you'll record in-game builds and can export them to share IRL. Grow your channel by sharing your clips–from garage experiments to actual rocket science.
In true hobbyist fashion, however, Next Space Rebels features a free play mode, specifically designed with enthusiasts in mind. Whatever it is you can dream up, free play mode can help you make your wildest Frankensteinian rocket aspirations a reality.
Next Space Rebels is counting down to launch in Fall 2021 on PC, Nintendo Switch, and Xbox One. Wishlist it on Steam, or check it out on Humble Bundle.
Dodgeball Academia plants its feet firmly on the court, following the story of a rookie dodgeball student named Otto. In this RPG, dodgeball is life, and you'll play as Otto as he trains to become the ultimate dodgeball champion.
Across eight episodes, you'll forge friendships and rivalries, polish your dodgeball skills, and whip the perfect team into shape. To help you do just that is a vast and customizable party progression system. Unlock eclectic characters to upgrade them in unique and exciting ways to diversify your party.
But Dodgeball Academia isn't just fun and games, it's also about uncovering the long-hidden truths hidden within the academy's walls. Explore campus life at the academy in Otto's shoes; through main quests, side quests, minigames, and more, it's up to you to investigate the academy's unspoken mysteries.
Take on action-packed challenges in a blend of fighting-game combat meets RPG, pitting you against challenging enemies and bosses. Or, duke it out in a blazing dodgeball battle with friends in a competitive local versus mode. 
Dodgeball Academia is expected to make a knockout in 2021, on PC, Nintendo Switch, Xbox One and PlayStation 4. Wishlist it on Steam here, or take a peek at Humble Bundle.
On another note, we worked with Humble Bundle to put together a promotion for our readers! You can grab Civilization IV Premium Edition for only $10 when you use the promo code PCGAMER when purchasing this month's Humble Choice. Check it out!
Source: pcgamer.com