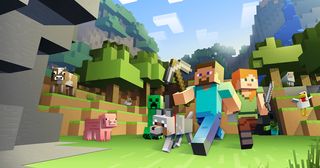 If you've got a lot of mods to manage, Minecraft Forge is what you need to download. While Mojang's blocky survival game continues to stand the test of time in its vanilla form—especially with the first part of the Minecraft Caves and Cliffs update live now—Forge is a great way to make managing your Minecraft mods simpler.
That means new biomes, structures, and more, all at your fingertips. So, whether you're already up to your ears in mods or you're looking to get started in Minecrqft's modding scene, here's how to install the software, how to use Minecraft Forge, and what it does.
Modding can be quite a difficult process in some games, but Minecraft Forge makes it all relatively simple. Once you have installed the Forge client, you'll be able to select it as a profile on your Minecraft launcher which then adds a button that lets you view a list of your mods.
From here you can select the mods you want to use and launch the game as usual. Or if you've just downloaded a new mod, you can open the mods folder by clicking on the button at the bottom of the list. This allows you to copy a newly downloaded mod to the mods folder without having to search for the location manually.
That's all there is to it. Now it's just a simple matter of finding the Minecraft mods you like and installing them. 
There are more blocky guides where that comes from, so here's how to build a house in Minecraft. Now you've got a home for all your handy mods, and for yourself.
Source: pcgamer.com