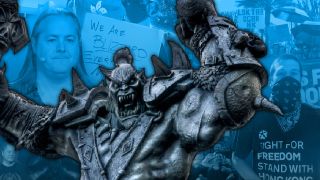 Blizzard's recently publicized sexual harassment and discrimination lawsuit filed by the state of California is just the latest in a long string of controversies. Between massive layoffs, numerous reports on its toxic workplace, and highly anticipated launches reportedly sabotaged by mismanagement, the last few years have dramatically altered the perception of what used to be PC gaming's darling developer.
This timeline covers Blizzard's most notable controversies and high-profile departures since 2018. These events help paint a broad picture of Blizzard's recent turmoil over the past few years and can also give some useful context in its changing corporate culture and the recent allegations against it.
The first half of 2018 was relatively quiet for Blizzard, but shortly after Battle for Azeroth launched in August, World of Warcraft players were up in arms. Early in its beta, players began complaining about new systems like Azerite Armor being too confusing and unrewarding, but it seemed like Blizzard wasn't making any positive adjustments based on that feedback. Players were upset by the non-existent communication from the development team about long standing issues. By September, things were so bad that game director Ion Hazzikostas issued an apology to the community and promised to be more communicative and fix Battle for Azeroth's many problems.
Morhaime had been with Blizzard since he co-founded the studio in 1991. Replacing him as president was J. Allen Brack, who had previously served as World of Warcraft's executive producer. 
There was a lot of pressure on Blizzard to wow audiences at BlizzCon 2018. World of Warcraft fans were still upset about the state of Battle for Azeroth, and its developers rolled out an ambitious roadmap of updates in an attempt to right its course. But as the keynote presentation came to a close, players thought they were about to witness the reveal of the much-anticipated Diablo 4. But as soon as principal designer Wyatt Cheng mentioned "mobile," you could feel the excitement evaporate.
It was an enormous misstep to position the Diablo Immortal reveal as the big finale to BlizzCon. Players who had been eagerly awaiting a proper Diablo PC game felt tricked. It seemed like Blizzard was more interested in chasing trends rather than giving its audience what it wanted. Things only got worse when Cheng later asked a booing audience "What, do you guys not have phones?" after clarifying that Immortal would not release on PC. That would later become an enormous meme wielded by bitter fans.
In the month following BlizzCon 2018, things were beginning to quiet down until December 14 when Blizzard announced that it was trimming Heroes of the Storm's development team and outright killing its esports league just before its 2019 season. With no prior warning, entire teams, commentators, and support staff were suddenly left jobless.
Though it wasn't surprising that Heroes of the Storm was underperforming, fans and pros were infuriated that Blizzard would wait so late in the year to break the news. Even worse, teams and insiders weren't even given advance notice—they found out that their Heroes of the Storm careers were over at the same time as everyone else.
Below: A tweet from former Tempo Storm head coach lamenting Blizzard cancelling its HotS esports league.
In early January, former Blizzard employee Julian Murillo-Cuellar posted a lengthy statement on Twitter detailing the bullying and discrimination he faced while working on the Hearthstone esports team starting in 2016. Murillo-Cuellar alleged that another employee repeatedly made racist comments and harassed him, and any attempts to resolve the issue with HR and management were largely ignored. Murillo-Cuellar also claimed that he was retaliated against for speaking out and even received negative performance reviews that described him as "not a team player" and "difficult to work with." Shortly later, Murillo-Cuellar says he began suffering from anxiety attacks and major depression and was placed on medical leave in 2017. When he was later placed on unpaid leave in 2018, Murillo-Cuellar handed in his resignation.
Following the controversy, Blizzard issued a statement that didn't specifically comment on Murillo-Cuellar's accusations but reiterated its commitment to "inclusive and respectful work environment."
Activision Blizzard set financial records in 2018. Despite this, CEO Bobby Kotick announced in a February 2019 earnings call that his company would be laying off around 8% of its employees. This amounted to an estimated 800 people across Activision, Blizzard, and King losing their jobs.
The contrast of significant layoffs against a backdrop of record financial performance drew widespread condemnation from all corners of the industry. In a Kotaku report, employees expressed outrage at Kotick's comments and the chaotic nature of the layoffs—which were reportedly much more extensive than anyone was anticipating. Departments like IT and esports were reportedly "gutted," while core development teams were largely untouched.
Over the following year, Activision Blizzard sparked even more criticism when it began rehiring for many of the roles which it had initially cut, culminating in a 2020 announcement that it still needed to hire 2,000 employees to meet new demands. 
In July, another Blizzard co-founder announced he was leaving the company after 28 years. Though one of the less visible faces of Blizzard, Pearce led development on Warcraft 3 and was an executive producer on WoW's Burning Crusade, Wrath of the Lich King, Cataclysm, and Mists of Pandaria expansions. 
Source: pcgamer.com
Tags: #Activision-Blizzard #Blizzard #Diablo 4 #Diablo Immortal #Hearthstone #Overwatch #World of Warcraft