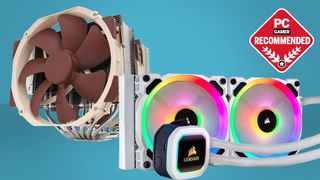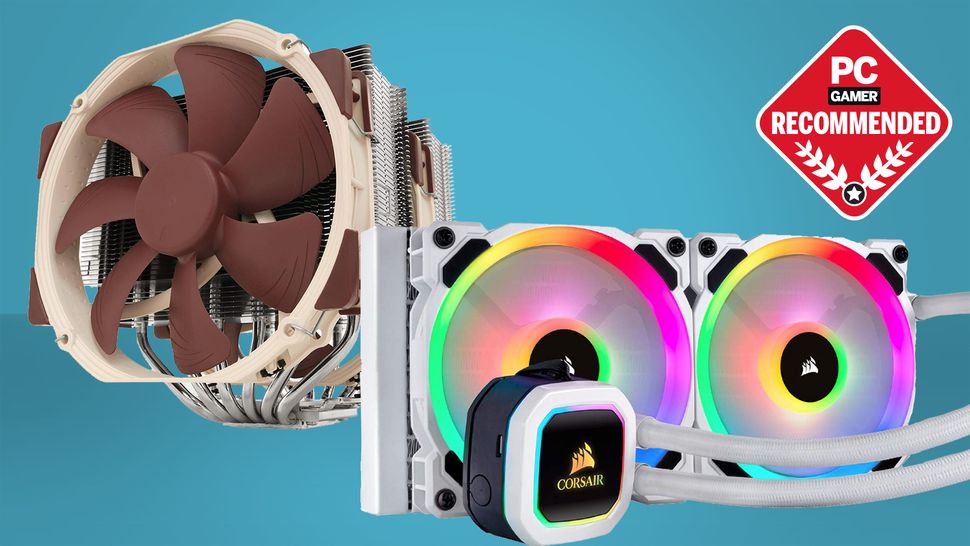 One of the best CPU coolers is a necessity when it comes to building a gaming PC. Whether that's a budget build or overkill rig, it matters all the same. It's also especially important with the latest chips from Intel and AMD, which both love to stretch their legs with extra cooling capacity. The good news is that you don't have to spend a huge amount of money on this absolutely vital component.
CPU coolers generally come in two varieties. The first is an air cooler, which comes with a big metal heat sink that pulls heat away from the CPU, then blown away by a fan. Before you pick an air cooler, you need to consider your CPU socket type, RAM clearance, your PC's case dimensions, and the airflow in your machine.
The other, more extravagant option is liquid cooling, with the most common being the AIO (all-in-one) variety. Liquid cooling is often a more efficient choice and can lead to some flashy-looking components with wild RGB lighting options and even OLED screens. If you're feeling especially courageous, you could also create a full custom water cooling loop, which can include GPU as well as CPU cooling, but that way lies tube-bending and a whole lot of installation effort—though the result of all that work is pretty cool.
We've listed our favorite air and AIO coolers below, which cater to high-end and budget builds. If you're looking for other ways to help increase your system's ventilation, you can check out our guide to the best PC fans.  
Corsair was one of the first hardware manufacturers to bring all-in-one liquid coolers to market. It only fits that its latest cooler has dethroned our previous king. The H115i has always been a strong contender for the throne of best liquid CPU cooler, only narrowly beaten by NZXT's Kraken X62.
The updated H115i Platinum is a definite improvement, but NZXT's infinity mirror CPU block design was and remained one of the most beautiful RGB implementations we've seen in any product. It wasn't until seeing Corsair's latest contender, the H115i Platinum, that we've been able to let the Kraken go.
For now, though, it's all about the excellent Corsair AIO. The H115i Platinum is available in black or white with a set of addressable RGB LED fans and CPU block. It's a real head-turner in any build and has excellent software and performance to back it up.    
It may be one of the most expensive air coolers we've tested, but Noctua's flagship NH-D15 is our top choice for high-end air coolers. Based on the company's award-winning D14, the NH-D15 performs just as well as a handful of all-in-one liquid coolers and even beats a few of them both in performance and noise levels. The cooler features a dual tower heatsink and comes with two high airflow 140mm fans.
Even working at 100 percent, the cooler ran quieter than just about all of its competitors. If you aren't a fan of liquid cooling or don't have the space to mount a radiator, the NH-D15 is about as good as it gets for air cooling. The only downside we could find is its bulkiness, which could cause problems with tall RAM module clearance.
EVGA's latest CLC liquid coolers are our favorite mid-range pick because of their excellent performance per dollar. Matching cooling of the latest chip-chillers from Corsair and NZXT, the 240mm CLC costs a fraction of the price while only sacrificing a few features. The included fans can get very loud at full speed, but we found the cooler to run well enough without ever reaching those levels.
While you won't get the fancy addressable RGB lighting you'd find in NZXT, Thermaltake, or Cooler Master's latest designs, the EVGA CLC does have the same sleeved tubing and a single RGB light on the pump head that can be controlled through the software. If you don't care for all of the bells and whistles, EVGA's CLC 240 offers exceptional performance with little compromises.
Best mid-tower case | Best RAM for gaming | Best SSD for gaming  
Best gaming monitor| Best CPU for gaming | Best gaming headset
Corsair was one of the first manufacturers to bring all-in-one liquid cooling to the masses. Nearly a decade after the company first launched its Hydro series, Corsair is once again leading the charge with the updated H60 as our top choice for liquid cooling on a budget.
Often priced $20 cheaper than our best high-end air cooler, the 120mm H60 offers nearly identical thermal and noise performance at a fraction of the cost. The updated cooler features a white LED illuminated pump head, 120mm radiator, and one of Corsair's latest 120mm PWM fans. Our tests put the performance of the new H60 far ahead of its other 120mm competitors and even in line with a few 140mm and 240mm coolers.
Cooler Master's budget-friendly Hyper 212 CPU cooler has been around for well over ten years now. With experience like that, it comes as no surprise that the newer Hyper 212 Evo has become a renowned pick for affordable performance. Priced around $30, the latest update to the Hyper 212 Evo features four direct contact heat pipes, an improved aluminum heatsink, and a 120mm high airflow fan.
Source: pcgamer.com
Tags: #Cooling #cpu coolers #Hardware