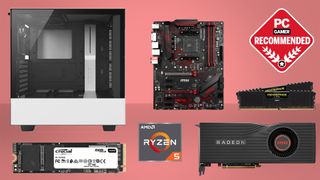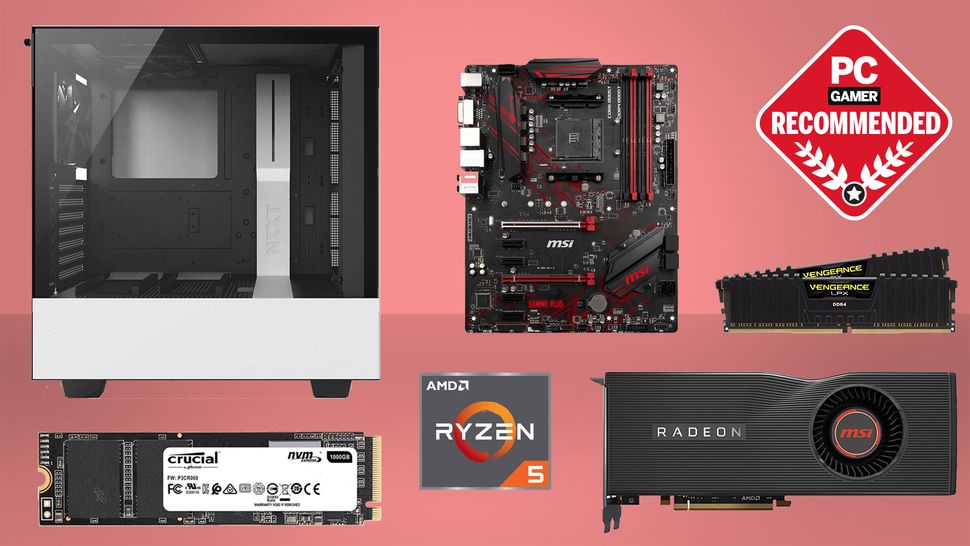 A gaming PC build guide might make some depressing reading right now. Such is the way of the current PC market in that, while it's easier than ever to physically build a gaming PC, it's never been harder to actually find the component parts to do so.
The biggest issue is the graphics card shortage; GPUs are almost impossible to find right now, from the lowliest pixel pusher to the most powerful graphics monster. Whether it's Covid-19 related supply chain issues, or the resurgence of cryptocurrency mining with GPUs, they're either all out of stock or only available for many times their MSRP.
Despite all this, we're looking at a system with a target price of around $1,000, and that's where the rest of our build sits for the prospective $400 Nvidia GeForce RTX 3060 Ti that we would recommend for this level of system. And while It's possible to pick up everything aside from the GPU today, the graphics card really is the beating heart of any gaming PC, and that makes it difficult to recommend a full build without basing your new rig around a GPU. 
Although the excellent AMD Ryzen 5000 series has entered the market, we're still recommending a last-gen chip as the best price/performance option. The Ryzen 5 5600X is a better price now, and as stock dwindles for the old Ryzen 5 3600 chip, the newer 5000-series CPU is actually a better price.
If this isn't quite what you're looking for, also check out our budget PC build guide and high-end PC build guide. Or even get someone else to build it for you with a cheap gaming PC deal. 
When it comes to gaming, everything that's great about the 5900X rings true for this more affordable Zen 3 chip as well. There's nothing between any of the Ryzen 5000 chips in games, which means you'll hit the same frame rates with this chip as you will our number one pick. Which is incredible when you think about it—top-tier performance from the most affordable Zen 3 CPU? We'll say yes to that every single day.
This does have half the core count of that top chip, rolling in as it does with 6 cores and 12 threads. This is only an issue with those more serious workloads, though, and this is more than sufficient for more reasonable stuff. You could argue that gaming could go beyond the 12-threads we have here, but there's no evidence that is the case so far, and that's even though the next-gen consoles are rocking 8-cores and 16-threads. 
The Ryzen 5 5600X also bucks the Ryzen 5000 family's trend by shipping with a Wraith Stealth cooler, so you don't have to drop extra money on a third-party chiller. You don't need to, but if you do, you'll hit higher clocks for longer and also open up the wonderful world of overclocking, which could make it worthwhile. This is a decent little overclocker, and while it won't affect gaming much, it'll help in other areas nicely.
Read the full AMD Ryzen 5 5600X review.
Sure, the Asus ROG Strix B550-E isn't the cheapest motherboard for a Ryzen 5 3600 chip, but it offers a huge amount of potential room for your PC to grow in the future. You get the chance to upgrade to the newer Zen 3 CPUs, taking full advantage of all the goodness AMD has baked into them, and that means you have the opportunity to shift to PCIe 4.0 devices going forward.
It's a premium motherboard, with all the trappings you'd expect from Asus' Republic of Gamers stables, such as 14+2 power stage, M.2 heatsinks, and pre-installed backplates. You also get Wi-Fi 6 wireless networking as well as Intel 2.5Gb ethernet too. And RGB LEDs, of course.
Performance too is typically good for a high-end Asus board, matching X570 motherboards for gaming performance without issue. The Asus ROG Strix B550-E Gaming is the whole package then, and right now is our all-around pick for the best B550 motherboard. 
Please read our full Asus ROG Strix B550-E Gaming review.
The obvious problem is that it's borderline impossible to find a new RTX 3060 Ti right now, especially for anything near the $399 reference price of the mighty Founders Edition. But the RTX 3060 Ti is still the GeForce card that we would opt for, all things being equal.
It marks the same incredible generational leap in performance that has come to epitomise the Ampere architecture, up until the non-TI GeForce RTX 3060, that is. With performance that can often outpace the RTX 2080 Super, for a nominal $399 price tag, it's the mid-range card to beat. Something the RX 6700 will have to do now the Radeon RX 6700 XT has just missed the mark.
Source: pcgamer.com
Tags: #AMD #AMD 5700XT #Gigabyte #Hardware #intel #mainstream #PC build guide #PC builds