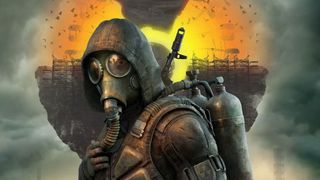 Some of our Best of E3 2019 Awards are funny in hindsight. We said that Elden Ring was exciting, but didn't put it in the list because we'd only seen a "pretty cinematic." Meanwhile, we did include Cyberpunk 2077 (decent, but not everything we hoped for), Vampire: The Masquerade – Bloodlines 2 (delayed indefinitely, quality TBD), and Empire of Sin (we gave it a 49%). 
That's how it goes sometimes: E3 awards are expressions of curiosity and surprise, a way to put a spotlight on games that got our imaginations going. Things don't always turn out how we hope they will, but we did pick some bangers in 2019, most notably Doom Eternal.
In previous years, we focused our awards on E3 games we've actually been able to play. E3 2021 was all-digital, which meant fewer opportunities to play demos, so we didn't make that a criteria this year—which made it even harder to narrow down our favorites. We'll be posting about other games we thought looked cool throughout the next week, and there are many more exciting games in our list of all the games we saw at E3 2021 (Bethesda's Starfield among them). 
Who's making it? 343 Industries
Where did we see it? Xbox & Bethesda Showcase
Wes: I still don't know what to expect from Infinite's campaign, but it wasn't the focus at E3 this year. Microsoft showed Halo Infinite's multiplayer for the first time, and the whole time I watched its trailer I was waiting for something that looked or felt off. It never came. Infinite's multiplayer just looks fantastic, as Nat and I already discussed. I especially loved how prominently it featured CTF and Big Team Battle, my favorite multiplayer experiences. No game has done CTF better than Halo (except maybe Tribes), and as antiquated a mode as it may seem today, I think it's the perfect showcase for Halo multiplayer. It brings everything together: the strategy of offense and defense and controlling the map's power weapons, the mayhem of vehicle combat, the physicality of tossing a flag up to a teammate waiting at a shortcut. I'm confident in predicting I'll play more Halo Infinite multiplayer than any game in the series since 3.
Steven: Even though Halo's combat has evolved (get it?), Infinite's multiplayer really evoked Halo 3 for me too. I love that the levels look like actual battlegrounds and the chaos of it had me reeling with nostalgia for all the evenings I spent in Halo 3's multiplayer. I've never been much of a fan of the different abilities that started appearing in later Halo games, but enough time has passed that I'm willing to give them another shot.
James: I'm with you two on the multiplayer, but even those short shots of Infinite's campaign spaces has my mind running wild. It's not quite open world, but the levels are definitely massive and more freeform than any other Halo yet. It's a natural scaling of the ethos set in the first game. We're sandbox shooting again, but the sandbox just got way bigger. It's our duty as PC gamers to break it.
Who's making it? Dillon Rogers, David Szymanski
Where did we see it? PC Gaming Show (bumped for Gabe Newell)
Rick: Every time I see new footage of Gloomwood, I'm more impressed by it. I was already sold on the premise, but new features like the wonderfully physical inventory system, conversations between guards, and more nuanced player animations highlight the care and attention New Blood is baking into the game.
Andy C: My favorite thing about the new trailer is the way it emphasizes that Gloomwood is not Thief. It looks like Thief, and sounds like it, and you can go at it like an OG taffer if you want, but if gunfire and explosions are more your thing, that's fine too. It comes across very strongly as an homage without an anchor: The Dark Project DNA is obvious, but Gloomwood isn't afraid to go off and do its own thing, too. Fantastic gameplay video, and my hopes for the game are higher than ever.
Steven: If you haven't played the Gloomwood pre-alpha demo on Steam, go do it. It's a wickedly fun and creepy game.
Who's making it? Playground Games
Where did we see it? Xbox & Bethesda Showcase
Jacob: I required absolutely zero convincing to play Forza Horizon 5 before the reveal, and yet everything from E3 wildly exceeded my expectations.
Tyler: I like seeing the shiny cars go fast. 
Malindy: Forza Horizon continues to wow pretty much everyone. I remember people going "whoah, this is nuts" at FH4, and somehow, FH5 just kicked that aside with something that looks even more… nuts. Nutsier?
Source: pcgamer.com
Tags: #Action #Adventure #Battlefield 2042 #Death Trash #E3 2021 #Elden Ring #Forza Horizon 5 #FPS #Gloomwood #Halo Infinite #Immortality #Mechajammer #PC Gaming Show 2021 #Riders Republic #RPG #Sable #Somerville #Stalker 2