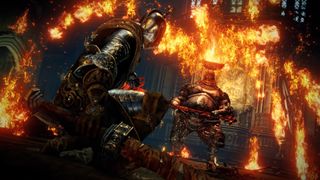 2020 was a long, hard year, and it was a year without Elden Ring. After its E3 2019 reveal, we saw and heard virtually nothing, as FromSoftware toiled away in secret. For so long, we knew Elden Ring was still coming, but we hadn't seen it in action, or even gotten another scrap of concept art. At last, that's finally changed. I doubt you could even imagine it!
Elden Ring has finally reemerged, not in a leak, and not in cryptic hints. It's very real, and it's coming relatively soon, actually. It isn't making it out in 2021, but it's arriving in January 2022. It looks worth the wait: the new trailer is absolutely packed. From what we've seen so far, this is definitely a Souls-style game. A very pretty new Souls game.
Here's what we know about Elden Ring, which is, finally, a lot, including its release date and what it looks like. We've gone deep analyzing the trailer and collecting every interview quote we can find.
Damn, there is a lot going on here. Let's just take a minute to absorb it. Then watch it a few more times.
As hoped, Elden Ring did show up at the Summer Game Fest event hosted by Geoff Keighley at the start of E3. In this three minute trailer, FromSoftware showed off a good chuck of gameplay with all sorts of familiar Souls game action. The art design is absolutely Souls, and a lot of the series staples are here, too. Resting at bonfires, backstabs, giant bosses. Let's talk details.
Here's a round-up of major news details, both from our own observations and from official Bandai Namco PR.
These quotes from Miyazaki's IGN interview will help you better understand Elden Ring. They'll also make it harder to wait for Elden Ring.
Combat options and RPG mechanics:
A "major point of this title, is the number of choices you have available in combat. So while you can just choose to go in head-on, we also have a number of [alternative] elements, such as being able to summon the spirits of deceased enemies and use them as allies in battles. So we have a number of elements that let you approach different situations at a high level of freedom."
"There's a large variety of ways you can approach combat, and a large range of abilities you can acquire. We wanted to allow the player to combine these different elements to find their own strategy, and even take indirect approaches to combat if they wanted to."
"The stamina bar exists in Elden Ring, but we feel it has less influence on the player overall. We wanted to make it feel less restrictive."
"Before, where there was a certain skill attached to a certain weapon, now you're actually able to freely interchange skills between a large variety of weapons. There are, I believe, around a hundred skills in total. Obviously you're free to combine your different skills with different weapons. You're free to build your character with different weapons and equipment. You're free to learn magic as well. So if you throw all of these things in, we think the build customization is going to be even richer and even more varied than before."
Progression: 
"With this increased sense of scale and this vast new map, we had to allow for a certain amount of progression and reward no matter which direction the player took and which path they take because of that high level of freedom. You will find those elements to battle and those elements to just exploring the world, which will allow you to keep that going. You can customize and craft items on the go by using materials found in the world."
"A part of making this new world with this new huge sense of scale was adding enjoyment to that sense of exploration… that could be through acquiring new weapons and magic spells and abilities such as the different spirit summons. We wanted to place these elements so the players will enjoy exploring the map and discovering these elements for themselves. There are cases in which you can buy them at stores or learn them from NPCs, but generally they are hidden throughout the game's world for the player to discover through exploration, rather than unlocking them through a skill tree as in previous titles."
Source: pcgamer.com