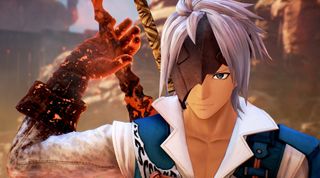 Tales of Arise is the latest action-RPG in the long-running "Tales of" JRPG series. It's the 17th game in the main series, but only the last few, starting with Tales of Zestiria, have been on PC. It's been in development longer than expected: Arise was originally set to come out in 2020, but was delayed to 2021. In a gameplay showcase this spring, Tales of Arise finally got a release date: It's coming this September.
Producer Yusuke Tomizawa says he hopes that Tales of Arise will show long-time fans of the series that Bandai Namco understands which series staples are important to players, while still innovating and appealing to a more global audience. It definitely looks like the highest budget Tales RPG in years, and Bandai Namco has confirmed it's coming to last-gen and current-gen consoles in addition to PC.
Here's everything we know about Tales of Arise, including its new release date, details on combat, and bits of story and background picked up from translated interviews.
The newest Ales of Arise Trailer shown off at Summer Game Fest gets into a bit more story teaser territory than past trailers. It shows off multiple characters who look like they'll be joining the team as party members. It also teases a bit more of the disparity between the two planets the story revolves around. 
There's also the recent release date trailer that you can check out for another look at combat, party members, and the planet Dahna.
Producer Yusuke Tomizawa spoke to Japanese gaming publication Famitsu and talked about characters, combat, and more. Gematsu translated the interview. Here are some highlights:
In his latest interview, Tomizawa described Arise's combat as faster than previous games, with a heavy emphasis on dodging enemy attacks. Expect series staples like Mystic Artes and skills to return, but there are some new systems as well. There are support abilities called "Boost Attacks" that sound like team-up attacks, and there are also finishers called "Boost Strikes." (These details came from a translated interview, so the names may change when the game is localized).
Back in 2019, Tomizawa said that players shouldn't expect major changes to the Linear Motion Battle System that the Tales series is known for, according to a conversation with Game Informer. That said, the same conversation mentions "plans to do exciting new things with it in Arise."
If you aren't familiar with the standard Tales battle system, the gist is that battles take place in a 3D space but characters run in a straight line towards a target. Tales of the Abyss introduced a free run element to the LMBS system that allowed a character to move in all directions while a certain button is pressed and return to linear motion after. Based on the brief glimpse of combat we got in the Arise trailer, it looks like there will be a free running element to its version of the LMBS system. We also spotted at least one dodge roll in the trailer.
Other common features in LMBS are combo meters, special attacks, and control modes ranging from manual (where the player has full control of the character) to automatic (where an AI controls all movement and abilities). 
We've gotten a good look at Tales of Arise's two main protagonists so far: the fella in the iron mask named Alphen and the pink-haired woman with garter bandoliers (functional and fashionable) named Shionne.
Alphen is the playable character for the game, though it looks like the two characters' stories are pretty intertwined so we'll likely have both in our party for the majority of the game (and if past Tales are any indication, we may be able to control anyone in the party).
Alphen is a slave from the planet Dahna, invaded 300 years ago by Shionne's nearby homeworld Rena. According to the Tales Of blog, Alphen has lost his memory (thank you, RPG traditions) while Shionne is cursed by something called "thorns" that causes pain to anyone who touches her. 
Obviously, they don't start out as friends and their relationship is a bit contentious at first. We don't know yet what circumstances bring Alphen and Shionne into their unlikely partnership.
New trailers have also revealed some new characters: mage Rinwell and fighter Rowe (on the right, up there). We've now also seen Dohalim il Qaras and Captain Kisara (on the left).
Source: pcgamer.com