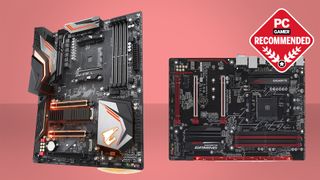 The best AMD motherboard takes an otherwise useless wedge of metal and silicon, and makes a useful and powerful AMD Ryzen CPU out of it. But it might be tough to choose a platform to trust with your new chip, not least because the red team has been so generous with the features on offer from its myriad of chipsets.
The first step on your journey to a new AMD-powered gaming PC then is to pick that chipset. You have a few options for motherboard chipsets that are compatible with the latest Ryzen 5000 and older Ryzen 3000 CPUs. The most relevant for gaming are the X570, B550, X470, and B450. Those are near-enough in descending order in both price and features, but you'll find some exceptions to that rule.
Once you've picked your chipset, you'll need to look into the board itself. Performance-wise, there's not a lot in it even with the most expensive boards, unless you plan on CPU overclocking—even then, there is precious little headroom in the Ryzen CPUs. Regardless, you'll still want to strike the right balance of features, ports, and platform support before heading to the checkout.
Figure out how many M.2 and PCIe slots you'll need, along with how many USB ports you tend to use. You also need to consider the scale of your build. Is space no object? Then go with an ATX board. But if you're looking to create a mini Ryzen PC, you'll need a good mini-ITX motherboard. Thankfully there are some great options, and not only at the high end.
The MSI MPG X570 represents an amalgamation of bleeding-edge motherboard tech, built to help you get the most out of AMD's high-end Ryzen 5000 processors, such as the Ryzen 9 5900X or Ryzen 9 5950X. It has four DIMM slots that can handle speeds up to 4,400MHz (although there's not much point going beyond DDR4-4000) and two PCIe 4.0 M.2 slots—MSI's MPG X570 is all about getting the most out of the best components.
The rear I/O panel features seven USB Type-A ports for peripherals, as well as a single USB Type-C port for connectivity and high-speed data transfer. So you won't go without precious ports for at least, er, a week. 
The MPG X570 supports Wi-Fi 6, and while that does necessitate a Wi-Fi 6 compatible router for the fastest speeds, it will also work with existing Wi-Fi 4/5 routers (formerly 802.11n and 802.11ac). Also of note is the HDMI port, which many X570 boards omit (not that we'd recommend using an AMD APU with integrated graphics in a high-end board like this).
The pair of M.2 slots each have dedicated heat shields and fans, and while this does help prevent potential thermal throttling, it makes installing or replacing them a more delicate process than with their more-exposed counterparts. 
The MPG X570 features enough compatibility to get the most out of your hardware now and in the future, provided you're willing to pay a premium for it. While it's certainly an excellent motherboard, if you aren't already committed to a shopping list of top-of-the-line components, you may want to consider a slightly less expensive board for your needs. The MSI X570-A Pro omits some of the extras like Wi-Fi and the M.2 shields, but it still runs fine and costs nearly $100 less.
The Asus ROG Crosshair VIII Hero (Wi-Fi) is another excellent, if opulent, board for Ryzen 5000 processors. This AMD motherboard comes packed with all the trappings you'd expect, including an onboard thermal sensor, onboard power and reset buttons, and a BIOS flashback option on the rear IO panel. The board has its I/O shield pre-mounted to avoid any embarrassing mishaps during your build.
This standard ATX board can support a pair of GPUs in its PCIe ports and up to 128GB of RAM with its four DIMM slots. You also get a pair of M.2 SSDs slots. These specs are generally par for the course, however. An array of 10 USB Type-A ports, as well as a USB Type-C connector for front panel IO, provide ample support for any number of peripherals, which all help put this board a cut above its peers. 
Sleek matte black and chrome finish and subdued RGB lend an air of subtlety to this particular board, and while the seamless M.2 heat shields make the Crosshair one of the cleanest looking boards on this list, it does make swapping out SSDs a bit of a pain. This isn't a glaring issue but does add an extra step whenever you're trying to upgrade your storage. 
Overall, this board has tons of attractive features, but its comparatively steep price tag may draw your eye to more affordable offerings.
This X570 motherboard remains one of the best options for any high-end AMD build, be it Zen 2 or Zen 3. There are a few reasons for this, but the three M.2 slots, great wired and wireless networking, and expansion possibilities top the list. Yes, it's one of the more expensive options, but you really do get a lot of motherboard for your money, and it's utterly reliable too.
The 14-phase VRM design ensures your CPU is getting lots of clean power, which in turn makes this one of the best options for overclocking your Ryzen 5000 or Ryzen 3000 processor of choice. All that metal atop of the VRMs helps keep things cool, as does the massive plate that covers the rear of the board. The M.2 slots all have heat spreaders, and the expansion and memory slots are reinforced too.
Source: pcgamer.com
Tags: #AMD #ASRock #ASUS #buying guide #Gigabyte #Hardware #motherboards