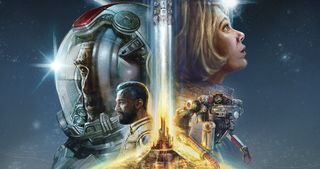 We didn't get to gather in sweaty, heaving crowds for E3 2021, but it was a big one nonetheless. Across the Summer Game Fest, the Guerrilla Collective, Microsoft's Xbox-Bethesda Showcase, the PC Gaming Show, and other online events, we saw an astonishing—nearly overwhelming—assortment of new game announcements, release dates, and other news. If you missed any of it, do not worry: We've assembled all the big news right here, so you can get caught up on everything in one handy place.
This year was a lot, seriously, but there were still a few big bombs that stand out from the crowd:
The video leaked literally 20 minutes before Microsoft's show started, but it didn't matter. The debut trailer for Bethesda's "first new universe in over 25 years" made for one of the most genuinely exciting E3 moments in years.
The long-awaited Elden Ring gameplay reveal was another huge moment, and as an added bonus we got a release date, too: January 21. The community reaction was about what you'd expect.
Diablo 2 is 21 years old (wow) but it's one of the best ARPGs ever made, and the Resurrected remaster is looking very promising. It's also now got a release date of September 23.
What's interesting about Gearbox's new shooter isn't that it's a Borderlands spinoff (it is), but that it's not the Borderlands spinoff you expect (it isn't). Still, it looks like it's going to be a lot of fun.
 They're making it! And that's about it. Yeah, that's it. Quality teaser, though.
Arkane unveiled a brand-new game during the big weekend, a Left 4 Dead-style co-op shooter with vampires and magic. But it's not just an L4D clone: Arkane said that, like its other games, player choice and a reactive world will be central to the experience. 
There's a lot of new stuff coming over the next few years. Here are some that seem especially exciting.
An Evil Dead game is coming, and it actually looks pretty good
Jurassic World Evolution 2 will be out later this year
Forza Horizon 5 is headed to Mexico this November and lordy it looks nice
The hit 2016 2D RPG Salt and Sanctuary is getting a sequel called Salt and Sacrifice
The Anacrusis is a '70s sci-fi take on Left 4 Dead from former Valve and Riot developers
Crossfire: Legion is a 'classic RTS' being developed by the makers of Homeworld 3
Source: pcgamer.com
Tags: #E3 2021 #Indie #PC Gaming Show 2021 #Summer Game Fest